Celebrity Homes: Stylish Interiors by D'LIFE
January 02, 2019
South Indian Celebrity Home Interiors
Celebrity home interiors express their personality and reflect on how they turned out to be stars shining above the normal crowd. In fact, they think and act differently even in the real world and daily life; where they stay shows that. Hence, the money and time celebrities spend on lavish mansions, and penthouses are beyond luxurious. Imagine the homes in Beverly Hills, California's Los Angeles County; celebrities pay a hefty price in real estate and an incredible sum in renovating. The interiors given here in these houses and apartments are unusually stunning. Decors of these celebrity style homes in South India comprise unique designs and state of the art skills. Let us look at the stunning home interiors of some of the most stylish stars to draw inspiration for the enhancement of home decor.
Priyadarshan's Home Interiors in Chennai

This elegant family home with well-balanced lighting and furniture is a sure-fire for everyone. It gives a feeling of excitement, warmth, and luxury. Each furnishing in the house captures the unique moments in style.
The entire house is an interesting mix of smart and cheerful elements. With the warm designs that speak exceptional luxury, this colourful home brings back the memories of his filmy arts. One of the best ways to use dining space is seen in this Priyadarshan's showstopper home. The dining area has a contemporary dining table with overhanging lights. Illumination and the designer inspired chairs to create a new facet to this ever so cosy modish decor. Moreover, the house also features a unique bar counter that carries its own elegance with wide counter-tops and decanters.
Classic Guest House of Anoop Menon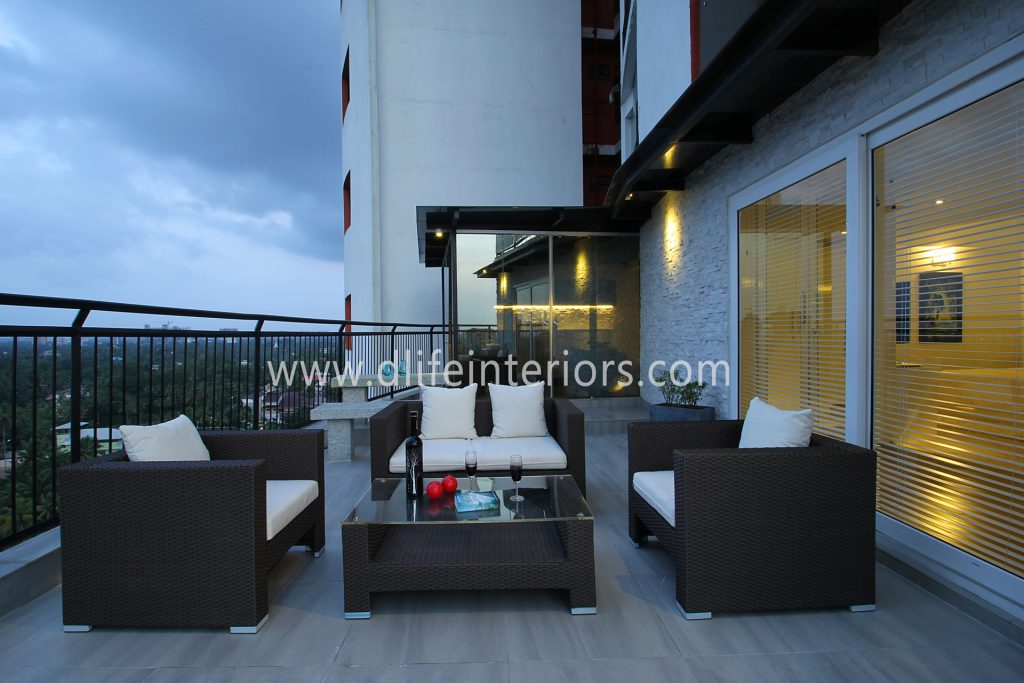 Anoop Menon, who has a serious taste in transforming a home, envisioned his apartment near central park, Cochin with a clean and refined look. The use of interesting furnishings with minimal yet lust-worthy elements adds a priceless style to the decor. This home adopts a mix of contemporary and western styles to bring life and beauty. Besides, the walls feature wallpapers and artefacts of geometrical design and a stylish TV unit with open ledges. The Moody settings create uniqueness and a comfortable living experience.
Pramod Raman's serene home in Kochi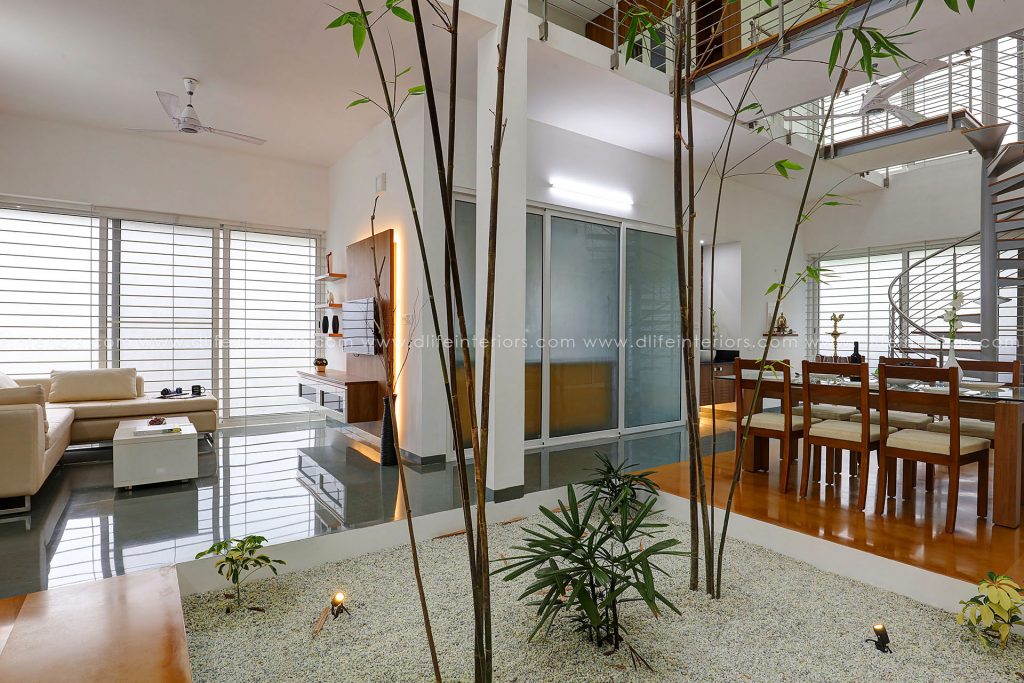 Mr Pramod Raman is an Indian short story writer and journalist who is a popular news anchor at Malayala Manorama television channel. He entrusted DLIFE with design, production and installation of interiors for a villa at Maradu, Cochin. Pramod Raman's villa aims to be unfussy, and of uber-luxury. This home adopts large French style doors to make use of the natural light. However, the house gets all its charisma from the open living-dining space and courtyard. The Open plan living with modest furniture brings a relaxed and welcoming vibe.
Charming apartment of Jayasurya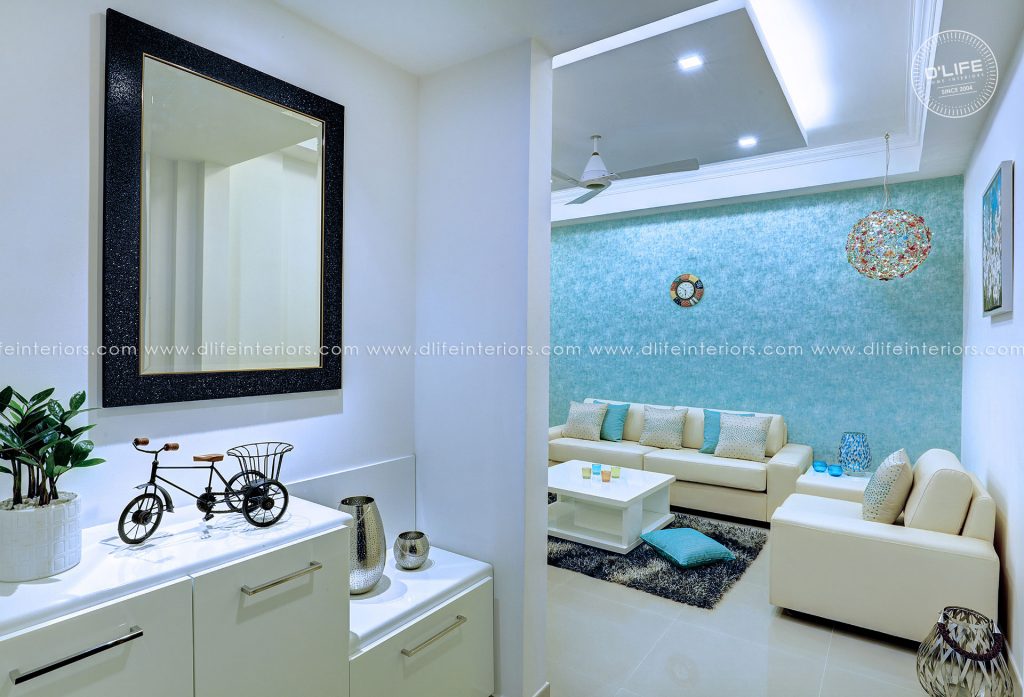 Luxurious celebrity home interiors are something that the whole world desires to know. A long-time actor of Malayalam movies, Jayasurya got his home interiors designed by DLIFE in 2018. The Looks and the uniqueness in each piece of decor resemble how simple yet royal his persona is. Throughout the design, it was made sure that the house gets ample light and feels energetic as natural as it gets.
Shajon's Stunning Cochin home
Shajon's apartment blends the beauty of uniqueness and functionality. The Cochin based actor needed the house to be pleasant and dazzling. On the whole, the textures reflect a classic aesthetic with glamour.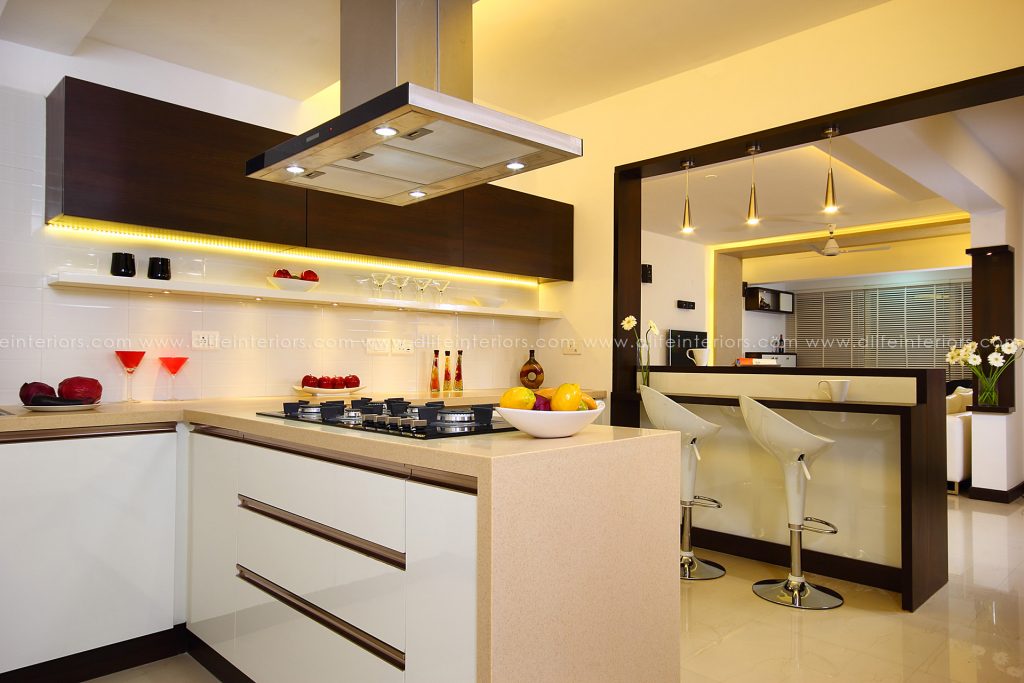 The home holds a display of artfulness to give the feeling of a luxurious designer inspired place. Products used to enhance the look include fabrics, artefacts, lights, carpets, and other accessories of modish styles. Inspired by the ideas from the actor himself, the furnishings are intended to be appealing to the splendid lifestyle he holds.
Ouseppachan's Melodious House
Mechery Louis Ouseppachan who has made us fall in love with his exceptional set of songs, turned to DLIFE interior designers Cochin to plan and make his dream home.  This is one of the celebrity home interiors that has perfectly nailed classy elegance. Light-filled houses with contemporary aesthetics have reinvented the evergreen composer himself. Interestingly, a quick glance at this astonishing place reveals his taste and love for beautiful elegant interiors. Modern aesthetics stick to the natural environment so well that it has turned surprisingly homey.
Nobin Paul's Evergreen Residence in Bangalore
Home of a most prominent Indian film score composer engulfed a beautiful collection of modern artistry and the latest edgy designs. Home interiors for Mr Noble make a new world of elegant living. Modern touches create a space with a laid-back vibe live with characters. This household is the essence of the state of the art refinement. Classy cabinets and storage accommodate a broad collection of dinnerware and owner essentials. Similarly, the living space offers a fantastic view and makes it the perfect place for a hearty gathering. Comfortable bedroom interiors by DLIFE give the right warm touches to create the perfect bonding experience.