Contemporary Design Checklist for Kitchen Renovation in 2023
April 28, 2023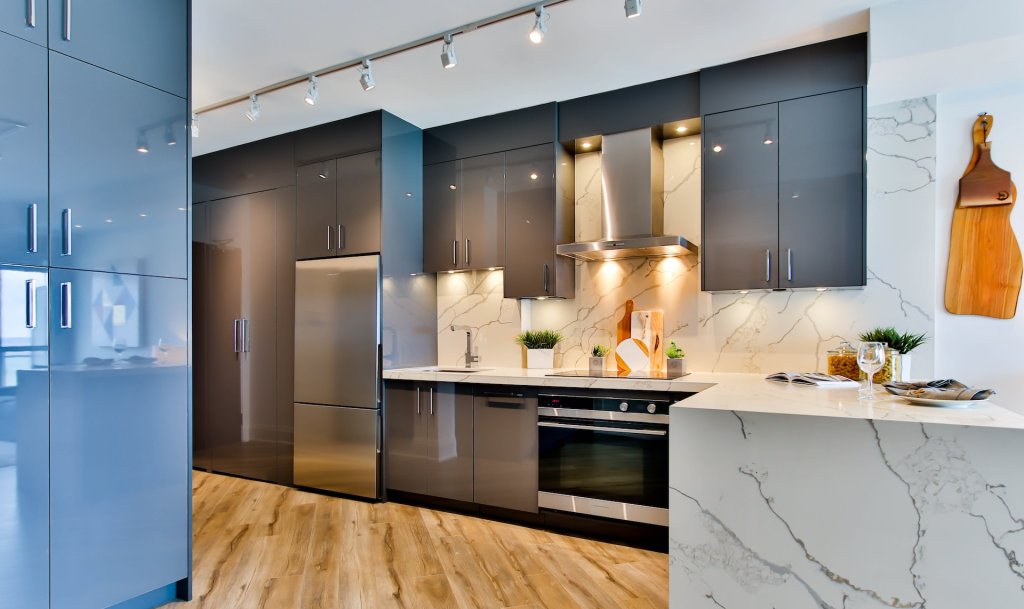 Contemporary kitchen designs are getting popular with time. Contemporary kitchens blend seamlessly with any home design and add the perfect elegance to any space. They often feature clean lines, minimalist colour palettes, and high-tech appliances that make cooking and entertaining a breeze. Additionally, contemporary kitchens are known for their functionality and practicality, making them a great choice for modern homeowners. If you are doing your home's interior project, here is a contemporary design checklist for kitchen renovation to help you out.
Easy to Clean and Maintain
Maintenance is one factor that too many homeowners worry about. If it is difficult to maintain, even a gorgeous kitchen will quickly lose its appeal. Dark cabinets are really challenging to maintain and keep clean. It is important to consider the maintenance requirements of a custom-made modular kitchen before making any design decisions. Choosing materials and finishes that are easy to clean and maintain can save time and effort in the long run.  
Stylish and Efficient Lighting
Other than the feeling of luxury and comfort, lighting in the kitchen makes it more beautiful and functional. Add different lighting fixtures for different moods. For example, under-cabinet lighting can provide task lighting for food preparation, while pendant lights over an island can create a cosy atmosphere for entertaining guests. It's important to consider the different functions of your kitchen and choose lighting accordingly.
A Wall of Cabinets
Having high quality custom cabinetry is as important as the floor plan. Cabinets are one of the most important choices, as they are the biggest investment you'll make. Kitchen cabinet designs that are practical, customizable, and as per the architectural style of the home, with multiple storage options, set the tone right in any home. Therefore, it is essential to choose cabinets that not only look good but also serve the purpose. Additionally, selecting the right material and finish can make a significant difference in the durability and maintenance of the cabinets.
Amenities
Many families now consider appliances and other amenities to be the heart of the kitchen. Appliances like toasters and cooking utensils like coffee pots,  have now become a must-have element for the kitchen. And these appliances facilitate easy cooking and serving, and also facilitates quicker clean-up.
Luxe Countertops
Gorgeous granite or quartz countertops help brighten and visually open up the room. In addition to their aesthetic appeal, these countertops are also highly durable and resistant to scratches and heat damage, making them a practical choice for any kitchen or bathroom. They can also increase the value of a home if you're looking to sell it in the future. 
Add a Separate Bar in the Kitchen
If you are looking for luxury, bar countertops bring a distinguishing style to the kitchen space. A sophisticated Home bar often creates a welcoming area used for socialising and eating. Adding a bar countertop to your kitchen can also increase the value of your home and make it more attractive to potential buyers if you ever decide to sell. It's a great investment for those who love to entertain or enjoy a good cocktail at home.
Open Space Plan
We all know that the kitchen is the most important place in the house. If you are looking to liven up the space, open kitchen designs are the perfect solution. Open kitchen designs not only make the space look bigger and brighter, but they also allow for better communication and interaction between family members or guests. Additionally, they provide a modern and stylish touch to any home.
Contemporary kitchens help bring the entire family together. The illusion of space it creates and the depth it brings to the decor is the most stunning. If you are planning to design your kitchen, we recommend you to get the help of an expert interior designer to make it the perfect way for you and your family. An interior designer can  suggest creative storage solutions to maximize the available space in your kitchen and bring liveliness.