5 Very Gorgeous and Stylish Dining Table Set Designs for 2022
March 14, 2022
In this fast-paced world, scheduling time and arranging space for dinner with guests is not an easy task. More uninteresting the dining space is, the more reluctance you experience in holding such a desirable get together. Thus, elegant dining table set designs that give enough seating, ample space and comfort is an essential requirement. Here are some of the newest dining area designs and furniture styles for your home. These combinations of dining table and chairs are as sweet as it gets.
Vanessa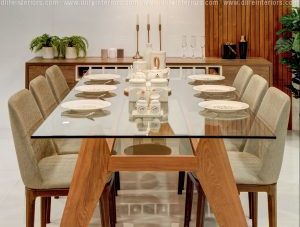 Vanessa dining table set can make a lovely addition to a dining room. This brilliantly designed table is made using a combination of high-quality HDF and glass top. This 6 seat table with V shaped heavy-duty legs ensure a comfortable seating. Moreover, the clean glass top makes it look effortlessly stylish and easily manageable. The combination of wood paneling and contemporary decor elements is a refinement in this dining room. Table can be outfitted with an assortment of stylish chairs for the cozy, snug dining experience.
Copper Lattice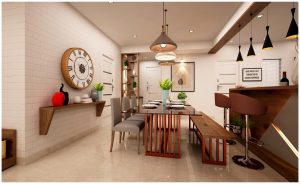 Copper lattice offers a splash of unhindered opulence in dining table set design. Accompanied by stylish wooden chairs and a bench on one side, this eye-catching installation offers the perfect space. If you are looking for a dining setup that takes up less room in a space, copper lattice is the right one for you. In addition to ensuring modern style, you might be able to accommodate more people with the bench seating at occasional gatherings. This works well in open layout or rectangular spaces as there's no 'head of the table' and everyone is perfectly on spot facing each other.
Tangle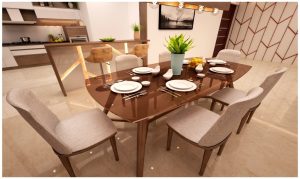 Inspired by the modern mid-century designs, this beautiful custom dining with hardwood round leg base in walnut stain finish gets a punch of style with its brown glass top. This is one of the most beautiful custom dining table set designs with a hardwood round leg base in walnut stain finish. Get a punch of style with its brown glass top, by including this to the new dining room. Tangle is really a space saver and makes the small dining space stylish and comfortable. One can add a couple of chairs with soft seats to meet the additional requirement.
Medley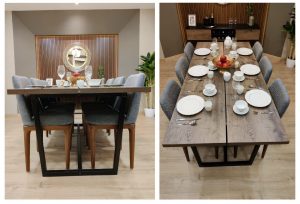 Medley, is one of  the rectangular, contemporary style dining table set designs with a metal tube as a frame and wooden top. This design breathes the freshness of a pleasant day with its vibrant colors and easy access. If your room is square or rectangular in shape, Medley ensures an intimate dining experience. It has a groove space on top to bring a modern environment. Try a chandelier on the top for an ever-luxurious aesthetic. Or even, mix and match unique styles within the space for a more harmonious vibe.
Copper Finish

This sleek dining table features a clear glass top with a copper base and amazingly designed legs fashioned out of HDF. It is ideal for family and friends to perch on comfortably and in the utmost style. A bench on one side makes a great alternative to conventional dining room seating. Combination of chairs with sleek legs and bench makes it easy to interchange seating and add a sense of expanse as per the number of guests and occasion. The table also fits in tight spaces and has no sharp corners to bump into.
These are some of the best choices of dining sets that may become part of elegant interiors in Coimbatore, Chennai. Bangalore or Cochin. Choosing the right one as per the space and rest of the rooms design makes it a permanent solution for the modern home owners. In addition to it, the designers can further offer any modification for better suitability.