Wall Paneling Materials for Better Style and Durability
September 18, 2021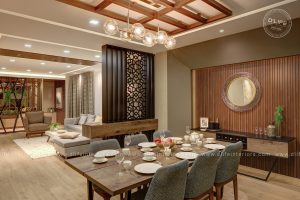 Decorating your house can be a little tricky and a troublesome task. You want your home to look pretty, but you also want it to stay protected from the usual wear and tear. For walls, most people go with either wallpaper or paint, but most people aren't aware of the many benefits that come with wall paneling. Wall panels are incredibly visually appealing and can be tailored to meet any protective or/and aesthetic requirements.
Whether you choose fabric or faux stone, wood paneling, veneer and laminate finish, upholstered wall panels, MDF panels, mirror-finish wall panels, or PVC panels, you can rest assured with a wall design that is extremely pleasant to look at. Wall panels enhance the aesthetic appeal in more ways than one. On one hand, whereas they can be used to hide flaws in a wall such as dents or scratches, on the other, they are useful to hide electrical wires.
Additionally, wall panels provide thermal and acoustic insulation that makes your room sound-proof and more comfortable. Another impressive and notable advantage of wood panels is their durability and cost-effectiveness. Once installed, they can go on for years without needing to be replaced. Moreover, compared to painted walls, they are incredibly easy to clean and maintain as well. Let's take a look at the 5 most popular wall paneling materials that provide both style and durability.
Veneer and laminate finish:
Wood veneer and laminate sheets are diverse wall paneling options. Wood veneers or laminate sheets are thin sheets used to provide furniture such as cupboards, sofas, beds, or wall panels with a classy and sophisticated look. They are available in a broad range of designs and patterns. Wood veneers and laminate sheets are non-toxic, affordable, eco-friendly, and provide your panels with a luxurious appeal.
Upholstered Wall Panel:
Padded or upholstered wall panels are panels with textile covering fixed upon them. Upholstered wall panels is one of the wall paneling materials that makes a bold style statement and comes with many benefits. The look that it gives is lavish and glamorous. The otherwise hard walls become soft-looking and comforting to look at. The acoustic insulation benefit of wall panels is further enhanced and sound-proofing is improved. Upholstered wall panels give an expensive look, are efficient and fast to install, and are easy to maintain.
MDF Panels:
Medium-density fiberboards or MDF panels are engineered wood products used as decorative pieces mounted on walls to give the desired pattern, texture, or architectural look. MDF is a durable material resistant to moisture and hard to crack or flex. They are also cost-effective and can be customized to suit personal preferences. MDF boards have a smooth-looking surface without any kinks or knots. MDF boards can either be painted or laminate/veneer sheets can be applied to them and are ideal to spruce up any commercial or residential space.
PVC Panels:
PVC wall paneling materials are incredibly user-friendly. They are lightweight yet durable. They can be easily cut and installed and can be a fun DIY project. PVC panels are a popular choice for washrooms and kitchens because of their mildew-resistant and water-repellent properties. Compared to traditional tiles, PVC panels are not only time-saving but also money-saving. Because of the diversity and versatility of their designs, colors, and patterns, PVC Panels are a popular wall and ceilings cladding option.
Mirror-Finish Panels:
Mirror-finish panels are a modern, classy, and an attractive option for wall paneling. The mirror is fixed upon a plywood base and gives the room an enhanced, spacious, refined appeal. These are cut and beveled into various shapes or sizes to match the aesthetic requirements. Work with an interior designer to have the best designs that meet your taste and make sure you achieve your home interior goals on time.