Entertainment Room Set-up: How should it Be, Ideally?
September 09, 2021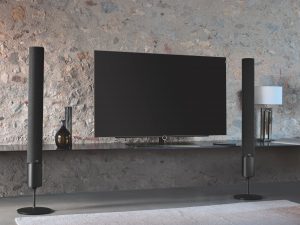 Bigger, Lighter, Smarter TVs
Creating the perfect entertainment room at home should include a large television with state-of-the-art large-screen LEDs or projectors to facilitate the best viewing experience. When you choose your TV set, make sure that you also consider the room size. It wouldn't be good if you are too far from the television when the screen is small and it would also not be nice if you are too near it when the screen is so big. The viewing distance from the television should be 1.5 to 2.5 times the diagonal screen size. If you have a 32-inch TV, there need to be 4 to 6 feet of viewing distance. If you are opting for ultra-short throw projectors, make sure it is 1 ft. away from the screen and that it produces an image size of 6 ft., diagonal.
Get the perfect Speakers for the Room and optimize it
Over the years speaker technology for entertainment room set-up has wonderfully advanced, which means, people get to choose from a wide variety of systems among top speaker manufacturers, which are of very high quality. For a true media room experience, you need a 5.1 or 7.1 surround system. To achieve the right decibel levels with proper acoustics, a specialized acoustic engineer should be consulted. Speakers should be mounted on the walls or in-ceiling which are great alternatives to the most seen freestanding speakers. Also, make space for thick curtains, carpets and acoustic panels. This helps you get good sound quality within the room.
Get Stylish Home Assistants and Smart Devices
Entertainment is literally overflowing with tech. You will literally get overwhelmed by the thousands of home entertainment devices available in the market. When you're looking to invest, look for Smart Speakers, Smart Displays, Streaming Devices, Hub and Remote Control and Wi-Fi Systems. If you have a robust connected home already, with google assistants or Alexa set-up, you can easily take charge of your entertainment devices. They are crisp, responsive and can get all your smart tech singing in harmony.
Ensure the Right Ambiance
Quality seating is important especially since you will be seated for a long time in the entertainment room. Make sure that you and your guests feel relaxed in your entertainment room set-up and do not cramp the room with heavy furniture. You can opt for a comfortable sofa set or comfortable chairs, recliners and beanbags or a complementary ottoman, with cup holders and armrests, to keep your popcorn, magazines, remote controls and cold drinks. This is something everyone will enjoy, be it children or old people.  It needs expertise and experience to make use of the available space to set up such a facility. A home interior design company can help you plan, design and implement the most suitable entertainment room.
Additional features to consider
The entertainment room is mostly given warm and dark colors with recessed or mood lighting for an immersive experience. Many people also prefer wooden accents like wooden flooring, wooden panel, for a luxurious touch to the entertainment room. Lights that mimic synchronized lighting add a relaxed ambience. LEDs, pendants and recessed lighting are good options for sources of ambient light. Also, look for plenty of spots for equipment, plus wire management and proper ventilation.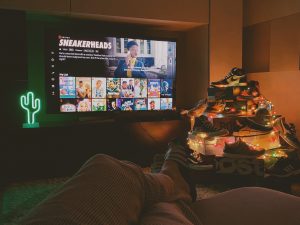 If you are low on budget and is setting up the space in your living room, it is important that you keep all the wires properly. Faulty wirings and improper placement of wires may cause harm to anyone. Last, having a solid wireless network is important to stream and download movies from and binge-watch your favorites on Netflix, Amazon Prime and Hot Star. And finally, let everything in the room be there to ensure comfort and convenience.