5 Essentials for Interior Project Execution
January 18, 2022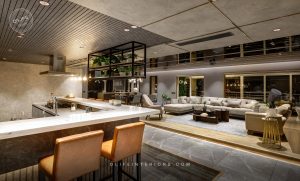 When we hear the term interior design, flair and creativity pop into our minds immediately. But one would be surprised to know about the degree of precision and effort put for interior project execution and get the desired look. A professional interior designer can help one to achieve their perfect plan and drawings to go ahead. However, to execute the interior project properly, one needs to keep a few things in mind. So, to help one ensure the timely completion of complete interior works, here are some essential points that one can follow.
1) Do Specific Planning and Preparation
Space planning is one of the vital parts of a flawless interior project execution. The process includes blocking out the interior areas, determining the circulation patterns, creating a layout, and so on. As suggested by the experts, every interior design project comes with the proper assessment of the room's deficiencies and how the elements are manipulated to be a better fit. And once the designers can understand how the space should function, they can coordinate the same with the client's requirement and prepare the complete plan for action accordingly.
2) Be Thoughtful and Serious about the Materials
It is very rightly said that quality is the key, as so do the materials in an interior design. This simple element helps determine how the person would experience the finished work. Hence, while choose suitable materials one needs to be thorough enough and avoid spending too much money. Instead, one must evaluate whether the materials they are picking are enduring. As recommended by a few experts, it is not necessary to get everything expensive as one can even find budget-friendly options as well.
3) Always Go for a Reliable and Well-Known Contractor
Choosing a reliable company with years of experience can be helpful for the successful interior project execution to your satisfaction. A contractor with years of experience or designer knows how to add and remove the elements to achieve the goal. Hence, it becomes essential that one performs research and picks a suitable contractor with great customer reviews. Everyone would agree that the expertise comes by experience, passion and dedication. So, it is highly important to hire the most reliable one in the area to ensure successful implementation.
4) Set and Adhere to a Time Frame
While working with an interior contractor, one needs to be clear about the time frame to complete the project execution. Most people plan to do their interiors only after building their new home. This causes delays and there is a substantial cost involved in this process. With most contractors promising to deliver their work on time, it is important to communicate well in advance regarding the project timeline. Make sure your designer commit to a timeline and stick with it religiously.
5) Make Sure to Strike a Proper Balance
Many interior designing experts suggest that one must evaluate the overall composition of their room to find the perfect balance. The art of finding the balance starts with the rooms' features like the doors and windows and filling in the pieces until one strike that perfect balance. Keep this focus in mind while you try to decide overall aesthetic and theme of furnishings, artwork, fixtures, and other decor. In such situations, seeking help from an experienced interior designer can prove to be helpful. A perfect alignment of design, products and execution by knowledgeable people can only give the best results.
With interior project execution being a daunting task, seeking help from professionals is suggestible. However, to ensure the project's timely completion, one must keep the discussed essentials in mind and create their dream space.