Style and Simplicity Inside a 1125 Square Feet Flat
July 21, 2016
Modern Furnishing in 1125 Square Feet Flat at Ernakulam
Flat having 1100 to 1200 square feet with modern furnishing is expedient for an upper middle class family to live within a city like Ernakulam. It is ideal to use it as a second home especially to enjoy the convenience within the city. These types of apartments come with a reasonable sized kitchen, three bedrooms and a living dining space. One must be vigilant while planning to furnish such flats as the space available is to include everything essential. At the time of designing interiors, every space must be efficiently utilized to ensure comfort of living. An expert interior designer can provide you the kind of design that suits the space. Let us have a look at the modern furnishing for 1125 square feet flat at Galaxy Cloud Space, Kakkanad, Kochi designed and implemented by D'LIFE Home Interiors.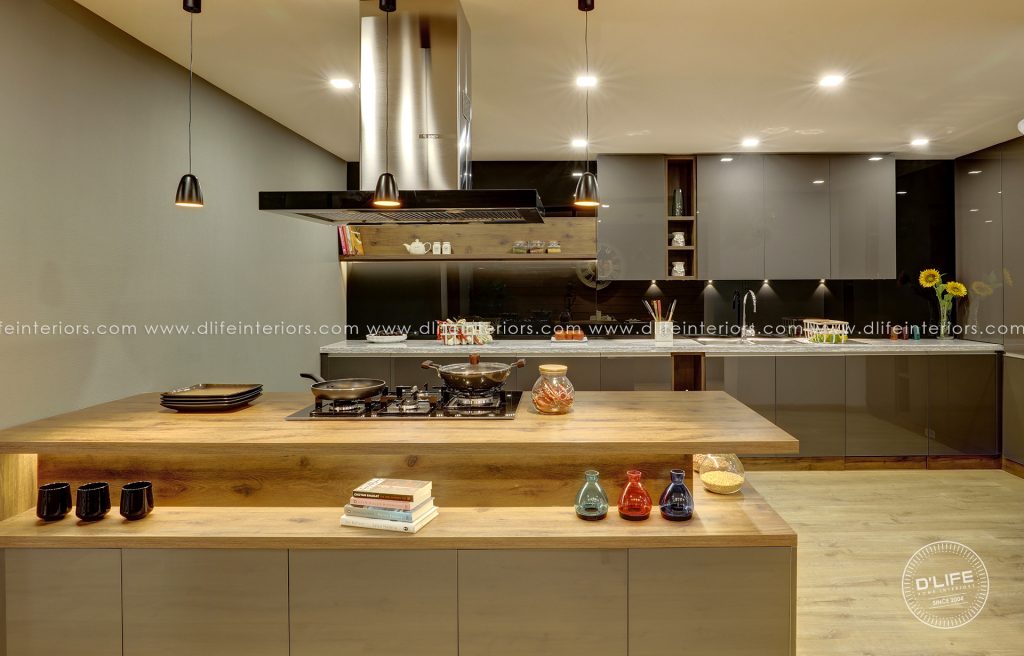 Kitchen in L Shape Made to Fit the Space
The best-suited layout for kitchen of this flat is L – Shape as it has a dimension of 220 x 300 cm. Cabinet made using Marine Ply and Hardwood MDF in Canadian Walnut finish stretches to the full length of both walls. The Granite slab is at a standard height of 85 cm from the floor. Hood and Hob is fixed on one side and sink on the other side thus by separating wet and dry area. Premium accessories like baskets, trays, pullouts, detergent holder, waste bin etc. are also provided.
Three Bedrooms with Modern Furnishing
1. Master Bedroom (490 x 300 cm)
The master bedroom consists of a queen-sized cot, two cot side tables, a 2-door wardrobe and a dressing table. All furnishings engulfs Hardwood MDF in a dual tone of Mystic Walnut and Frosty White finish. A ledge provided above the cot makes space for artifacts and photo frames.
2. Bedroom 2 (390 x 300 cm)
The guest bedroom provides comfort and coziness. Furnishings are same as in master bed room except dressing table which is in combination of Canadian Walnut and Frosty White finish.
3. Bedroom 3  (270 X 270 cm) 
The spare bedroom is the smallest among three. It is also designed in mixed color blend of Mystic Walnut and Frosty White. Furnishings include a queen-sized cot, a cot side table and a 2-door wardrobe.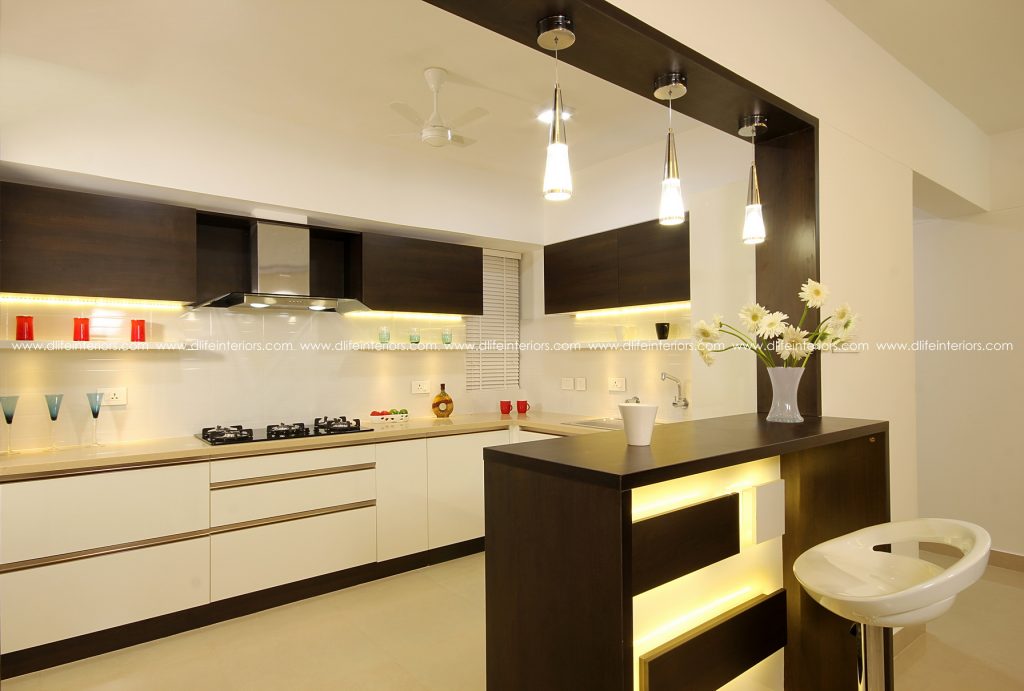 Fully Furnished Living – Dining Space
Living dining space has an L shape to it. The Living area has a dimension of 380 x 300 cm and therefore a 2+1 seated sofa and a center table is apt. A TV display unit is also fixed on opposite wall. The dining has an area of 300 x 340 cm and comes with a dining table with thick glass top and six chairs. A display cum storage unit is also placed near the table. All the furniture in living- ding area has a mixture of Frosty White and Mystic Walnut finish. Dining chairs and Sofa also matches with the color theme of the room. Click Here to watch video.
If you wish to contact the best interior designers in Kochi to hand over all works from concept to completion just call: +91 956 723 11 11. Or, walk in to your nearest DLIFE branch to discuss requirements with an interior designer and plan the perfect home interiors.