Specialized Home Interiors Company at Kottayam, Kerala
May 03, 2015
D'LIFE – Well Established Home Interiors Company at Kottayam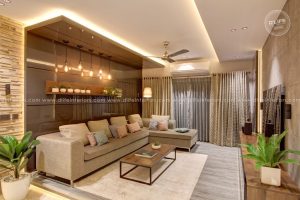 DLIFE branch office cum showroom at Kanjikkuzhi – Puthuppally road is the most reliable home interiors company in Kottayam, ¬¬-Kerala. Over the period of 5 years at Kottayam this company has achieved the goodwill of many NRI as well as local customers. By this 5th year there are many residential projects that have already been completely implemented. Whatever the need, modular kitchen for a villa or complete flat interiors, expert designers give the most suitable solution. Clients can choose the best from the options of contemporary designs, stylish modern materials and colors. Our designers and consultants provide guidance, suggestions and support right from the first call to the completion of the project.
Traditional Way of Doing Home Interiors in Kottayam
Someone building a house usually locates a local carpenter either during construction or after. House owner explains the requirement and agrees to go as per terms of the carpenter. Either plantation wood or plywood is commonly in use for wardrobes, kitchen cabinets etc. There may not be a proper planning on style, color, or accessories. Once done it is difficult to rework or reconstruct durable furniture. If the house owner is present in Kerala he or she may be able to suggest some alterations during making. But if the owner is away, they need to depend on their luck to get good quality results. Thus, if one needs the interiors and furniture only in traditional style using plantation teak or other wood, the only way is to go for the best available local carpenter.
Problems and difficulties of a house owner in traditional way of furnishing
• There may not be proper planning, design or agreement before starting the work. Everything works on word of mouth terms.
• Materials may not be of high quality standard unless everything is monitored closely by the house owner.
• There are no time limitations set. Thus there may not be discipline in works which will affect timely completion and results.
• Making is often done at the same house with the available tools and equipment. Individuals who are taking the work may be unaware of modern trends in design and style.
• Once done cannot be undone…. So no proper planning may make an unsatisfied customer.
• No after sale service or warranty is provided by local unorganized contractors carrying out traditional ways of furnishing.
Change Makers in Interior Design Accepted all over Kottayam District
D'LIFE, the home interiors company in Kottayam is really a change maker by providing quality materials, international standard finish, at affordable price. This team undertakes works not only within the town but also in all other the places of Kottayam district. Especially, for the people living abroad it is a relief to have a reliable interior design company, undertaking the whole work and execution within a specific time frame. People abroad can communicate directly through email, view the options and discuss in his absence also. Planning, design, production and execution in a professional manner, is a change brought about by D'LIFE in this sector. Thus, the contemporary style designs dominate over the traditional way, giving excellent results both in terms of beauty as well as functions.
Simple Style…. Great Looks by Expert Interiors Company in Kottayam
It is more of a matter of suitability both to the space as well as the taste of house owners. Understanding all the requirements and acting within the given time frame is the secret of success. Every company small or big know it. But, making it practical is often difficult as there are many factors that lead to the final result. This way, younger as well as the older generation like the simple but elegant style of interiors. They are confident that a company with 15 years of experience can only provide the best. Design and customize modular kitchen, bedrooms, living and dining the way you need.  Perfect fit of the furniture to the space improve the look and usability. Thus, simple and elegant style of furnishing by DLIFE beautifies a house or flat at Kottayam.