Home Interior Design and Execution at Trivandrum
May 29, 2015
In Search of Professional Home Interiors in Trivandrum?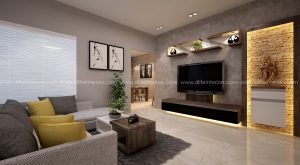 There are many interior design companies and architect firms for home interiors in Trivandrum, Kerala. Some of them do only design and others may only be in to partial or complete contract works. In this article, we explain one company that is covering the entire interior project starting from design until execution.
D'LIFE is a leading residential interior company in Kerala specialized in home interior design and execution. By the sincere efforts of team, we have achieved the top position among interior design companies at Trivandrum within a few years. Services are available for flats, compound villas, as well as independent houses. It is just one place for all the works with expert help. The company does customized designs, production and, execution under efficient supervision. Direct branch of D'LIFE at Nalanchira, Trivandrum offers complete home interiors. Team is ready to do works for residences at any place in this district.

What Does this Company Do for Home Interiors in Trivandrum?
D'LIFE makes your dream home interiors in Trivandrum come true. Whatever may be your requirements, they are ready to implement that to create the perfect interior with elegant look and perfection. From kitchen furnishing to wooden ceiling, everything is done competently with proper space plan and executed aesthetically excellent. Be it kitchen design, living room design, or bedroom designs they make complete customization according to the requirements of clients. Unlike other design build firms and other building designers as well as decorators in Thiruvananthapuram, this home interior designing company can create exception custom furniture and designs as per designing requirements. Products include modular kitchen, wardrobes, cots and beds, LCD TV display units, sofas, dining tables, shelves and storage, and many more. Additional support services like new electrical and plumbing points or shifting of electrical and plumbing points, demolishing of walls, decorative wall painting, wallpapers etc. are also available.
How Much Reliable are these Products and Services?
D'LIFE uses imported laminated marine plywood, hardwood MDF and other acrylic products. These are durable and stylish. All products are made in the company's own factories using sophisticated machines with great perfection and good finish. D'LIFE interior designer in Trivandrum delivers high quality products that are superior in design, functional and comfortable. Company ensures the best quality for all products and the service is excellent. As a result, they offer one-year free service for all installations. There is also a responsible customer care section ready to serve the clients any time.
Way of Managing a Perfect Implementation
Company allocates a skilled interior designer for each client. The procedure begins with the company's design consultants. They give you an approximate estimate according to your requirements. After receiving a token advance a specialist designer visits the site and give a plan. On final approval of design and estimate, the products are made in own factory. Projects team finishes the work under the leadership of a project manager and handover within 35 to 45 working days after final approval. With track record of 7000 completed projects across Kerala and Bangalore, the company ensures perfect implementation of home interior furnishing and décor in Trivandrum.
The Need for a Proficient Home Interior Company
Traditional way of home interior furnishing is a tedious task and time consuming for any client. One must consider budget, plan, resources and precision before furnishing his home. Only a professional can give the best result as they can understand and act. Clients know his requirements and money available but need to check the practical aspects too. Choosing a professional interior design firm helps to avoid expensive mistakes. Thus, it is important to select a company having experience of doing home interiors in Trivandrum. They will be capable of planning, and executing based on your needs.