A Dreamy Home with Contemporary Style Furnishing in Trivandrum, Kerala
March 22, 2022
Complete Home Interior Works at a Glance
Our client Mr Vinod and family had the desire for an open, unsegregated interior plan with no physical partitions. Our interior designers have created a bold and unique design concept embracing nature along with contemporary elements to make the home suitable for the owner. It include a modular kitchen, living, dining and three bedrooms with most modern décor elements and contemporary style furnishing. Complete customizations as per the requirement of the client make the living comfortable, convenient and thus an echo a restful vibe.
Living and Dining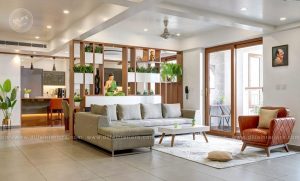 The living room features diverse antiques, artefacts and trinkets and accommodates a spacious L shaped sofa and armchair. The grey accented rug with gold lines occupies the heart of the living room. A suitable TV unit with laminate finish comes with ample storage space. Just off the living area behind the partition is a stylish dining area. Partition incorporates an open shelf design, artefacts, plants and lighting, making the space seriously calming. Thus, the living, dining and kitchen adopt an open structure to capture light throughout the home. The high ceilings plus the addition of glass windows create a beautiful airy feature in this beautiful home with contemporary style furnishing. A six-seater dining table in grey upholstery makes for convivial meals.
Bedrooms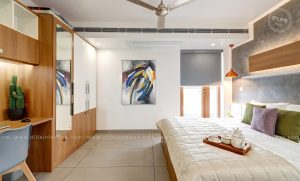 Each bedroom of this home in Trivandrum has been designed to be a reflection of the individual residing in it. Bedroom design in modern style suitably align with the rest of the home in appearance and other décor finish of contemporary style furnishing. Master bedroom and the guest bedrooms are vibrant and lively incorporating all the requirements. Modern additions such as accent walls and wardrobes in cohesive finish provides the best outcome. A queen-size bed with a wooden headboard while serving its purpose, adds serenity to the room. The kid's bedroom too has a contemporary appearance and is an extension of the rest of the spaces. Customized wardrobe cum study table in white and wooden tone ensure the bedroom's design aesthetics.
Kitchen
The client required an open kitchen considering their style of use. Moreover, they wanted a bright and airy kitchen with ample storage facilities. Contemporary style kitchen interiors is fully visible from the living area; thanks to the open-plan layout. Its color theme provides an organic counterbalance and reflects a modern outlook. Efficiently equipped with the cooking range on a black granite counter, white cabinetry makes the area appear elegant and large. Wooden cabinetry in white color flanked by bar stools on the breakfast counter makes a functional statement. Client is completely satisfied with the effort of the interior designers at Trivandrum for achieving great result.