How to Deal with Home with Low Ceilings
February 07, 2022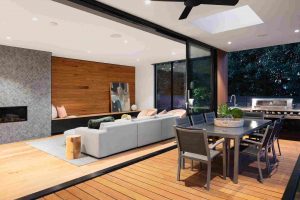 The ceiling has the biggest impact in terms of design and what your home looks like. A good interior design helps in making your lives better. For many people who have just moved into a new home, they may not have the same ceiling height that they had in the buildings years ago. So, what do you do for a home with low ceilings? Here are some tips to transform your home the better way into an effective design element.
Ensure Right Lighting
Consider recessed lighting to create a smoother look. These fixtures brighten the interiors and at the same time, makes rooms stylish and spacious. Moreover, for home with low ceilings avoid low hung ceiling fans. You can also consider wall-mounted lighting or scones; the light is focused onto the ceiling will create the illusion of height. Avoid old fashioned chandeliers for home ceilings, as the low hanging ceiling fans will draw visitors' attention to it and will also make your rooms smaller.
Maintain Low Furniture Height
Big and bulky furniture can make any room feel smaller. Consider choosing custom-made furniture that is in proportion with the ceiling height. Make the dining and sofa long, lean and low profile so that this furniture is proportional to the room size. You can also include full height storage solutions and narrow shelving units that go all the way up to get an interior that feels more spacious. While tall furniture draws attention, low height furniture creates the illusion of more overhead space.
Choose Floor-to-Ceiling Curtains
We normally use curtains for windows primarily to block light but did you ever know that using Floor-to-ceiling Curtains can help a room feel more spacious? To create more verticality which will fool the eye, hang the curtains at a height between the wall and the ceiling. or at least, be sure to hang the curtains 4″-5″ above your window frame. This will make the window seem larger and make the room seem more spacious if you're going for this look!
Include Walls with Vertical Stripes or High Art
Much like the floor to ceiling curtain tip, another way to make a home with low ceilings look taller is creating vertical stripes or high art on the wall. This can be achieved by tall artworks than using wide and by using wallpapers with vertical stripe patterns. Hanging small frames above accent walls or near windows also trick the eye into thinking the room has higher ceilings. But make sure you don't hang it too high that your visitors will have to strain to see the wall art.
Similar to wallpapers, for a more personalized touch for your home, try accent walls that can change the size and space of a room. The key is to create accent walls with deep grey or other dark shades to bring a spacious look and cozy vibes. If you're working with an odd-shaped living room or dining, get help from an interior designer for the right solutions.