Interior Design Trends for Children's Room
June 12, 2020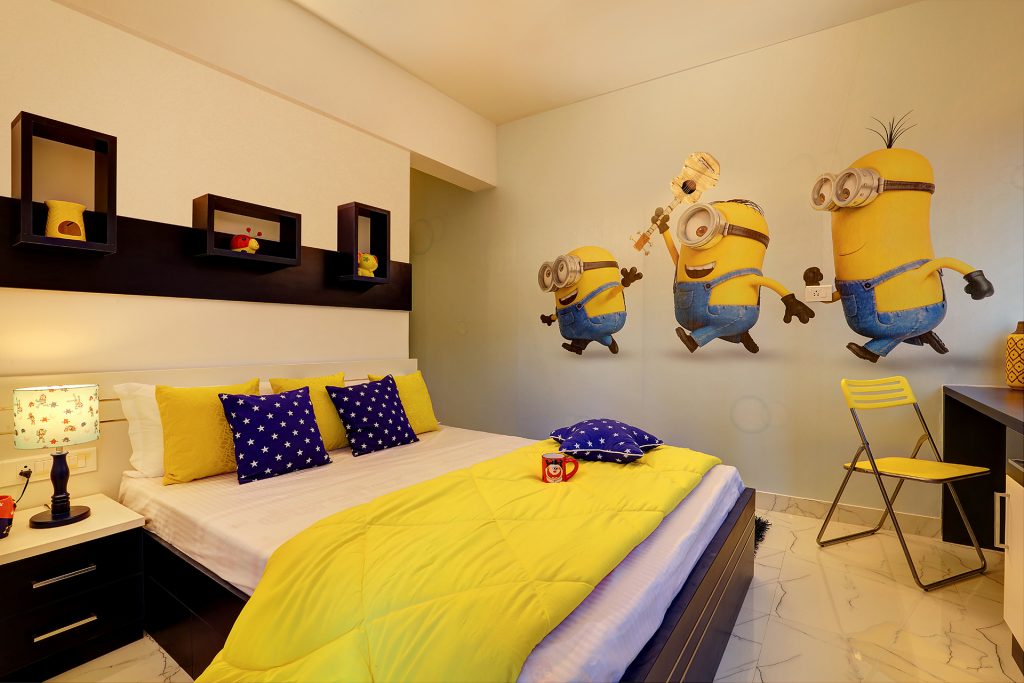 Designing the room interiors of a child is not at all a child's play. It requires designers to recognize the individual interest of each child, their passion and hobbies which they like to take part in. But that doesn't mean that putting up a cartoon wall paper will do the job. Interior designers in Kerala for home suggest that the modern kid's room should be designed with objects that appeal to their interest but also have aesthetic value. So what are the interior design trends for kids in the year 2020? Let's find out.
Vibrant Accents and Warm Color Palettes
Colors are loved by children of all ages. Popular yet warm shades like canary yellow, deep red, and tangerine orange are more in demand this year. Warmer colors like peachy corals, fuchsia pinks and terracotta brown having a modern twist are expected to be more popular in 2020. If you are looking to have some smaller changes instead of a big one then interior designers in Kerala for home suggests that you start with curtains, cushion covers, table upholstery and small decorative fixtures. If you use bright colored cushions, it can give a new style to kid's room interiors.
A Touch of Nature
A vital role is played by nature in the interior designing field. During the past few years, the design trends included the use of nature in more ways and 2020 will not have an exception. When you are incorporating nature-themed elements into the decor, it will make your children learn to care about their surroundings. You can try using wooden furniture having natural impactions for adding a rustic touch. You can opt for designs, which feature markings and knots and replicate real trees.
Sustainability
The current Interior design trends are now relying on embracing an eco-friendly lifestyle and it is important for you to teach your children about sustainability. The inclusion of sustainable elements during home interior design process can also help them learn the importance of protecting and nurturing the environment. In 2020, the trendsetters will not be plastic or any other synthetic materials but instead of that, recycled and upcycled items are more likely to be the highlights. The focus will lie on eco-friendly ethically sourced decor items.
DIY
DIY decor items will be a huge hit in 2020 according to interior designers in Kerala for home. From lanterns to the wall hanging, DIY will have a much larger place to hold. You can turn your kid's drawing into framed pictures rather than buying some wall art. You can encourage your little ones to make a craft for their rooms, as that will bring out their creative skills. Chalkboard walls are also in the trends nowadays as it lets kids show their creativity and change them if they want.
Dedicated Green Space
Indoor plants are the most efficient way to make a room lively. No matter what may be the size and style, they can rejig any interior with superiority. You can try infusing plants like lucky bamboo, aloe vera, peace lily, snake plant, red-edges dracaena etc, as they will the right addition to your children's room. So try these amazing ideas suggested by interior designers in Kerala for home.