Living – Dining Partition Ideas for Indian Homes
May 29, 2019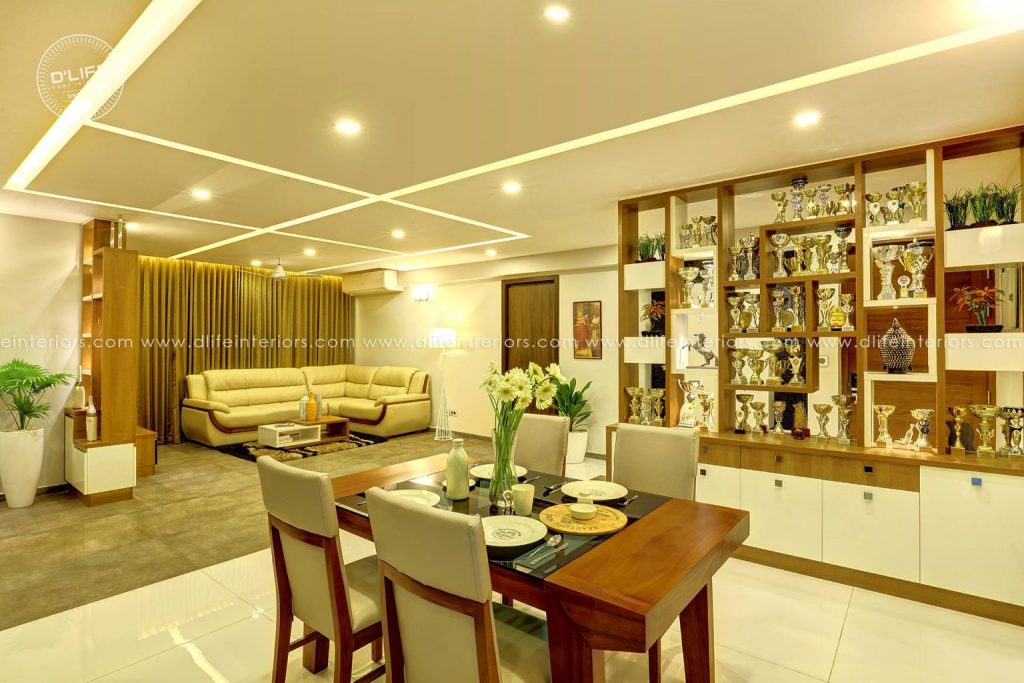 Homes with an open floor plan are spacious. But, they can take away your privacy. When you think of living dining partition ideas, walls, or particleboards come to mind. However, you can do creative living room partitions and add a touch of functional sophistication in numerous ways. Creating private spaces between living and dining with dividers, curtains, open shelves, and wooden partition units in your home gives an intimate atmosphere. Here are some partition design ideas to divide spaces and still have a sense of openness.
Breakaway half walls
Walls are one of the conventional methods for creating partitions between spaces. However, with the need for more light and space, this has made way to half wall designs. Derived from the traditional and craftsman style homes, half walls create spaces that evokes a sense of comfort, scale and separation. At present, they are most common in mid-century houses for separating the living spaces and in contemporary homes for separating the kitchen and living without sacrificing on the openness. Half walls with matching color contrast makes it match with any interiors. A half wall not only creates separation but also provides a certain degree of privacy for a cozy corner of separation with an airy feeling.
Curtain Wall
It is a casual and chic way of creating privacy. Curtains are the simplest alternative for separating living space from dining area. They save space, are surprisingly elegant, less expensive and act as the perfect room divider option. Use of curtains can create a multifunctional space that forms two separate spaces with visual privacy or a shared zone. With the stylish designs and practicality it offers in limited spaces, they cut off the need for a partition wall in certain rooms.
Anchor with a Sofa
A sofa can do the work as a creative room divider and act as a tangible closure in open spaces. This is one of the best and cheapest living – dining partition Ideas. A Living room design anchored with a sofa holds down the division without making it look more incidental. An elegant sofa set placed between the living room from the dining. Here, the sofa offers a subtle masculine edge and the lighting acts as a statement piece, which holds the focus on the living space.
Partition Units
Paneled or screen partitions are considered as the conventional way of creating useful separation. This can be done from a wide range of materials such as wood, plastic and metal. One of the advantages that come with it is that they are solid and look rich and elegant. Similarly, one can customize it as per their needs that match the decor. Including glass panels in the partition units helps to let in light and ensure brightness. However, this cost more than using MDF or PVC. Creating partitions with dedicated spaces for showcasing decorative items is a great way to hide a part of your home design for privacy and show your taste.
Have a look at this custom partition unit. Natural wood partitions look beautiful and are just the thing to discrete living and dining area furnishings or bedroom spaces. It is the ideal place to display decorating ideas with artifacts and memorable photos of your wonderful family vacations. The partition is not only beautiful but is also well organized. The wooden texture and aesthetics makes it synchronized with any home interiors making the space look incredibly stunning. Similarly, they do not cut out the light as it enables them to move freely between the divided spaces. It is best to consult an interior designer to ensure that the room divider matches the overall style of the house interiors.