Watch Sun Rise from a Luxury Apartment at Kochi
March 22, 2017
Luxury Interiors in Kochi for Client Mr Suraj John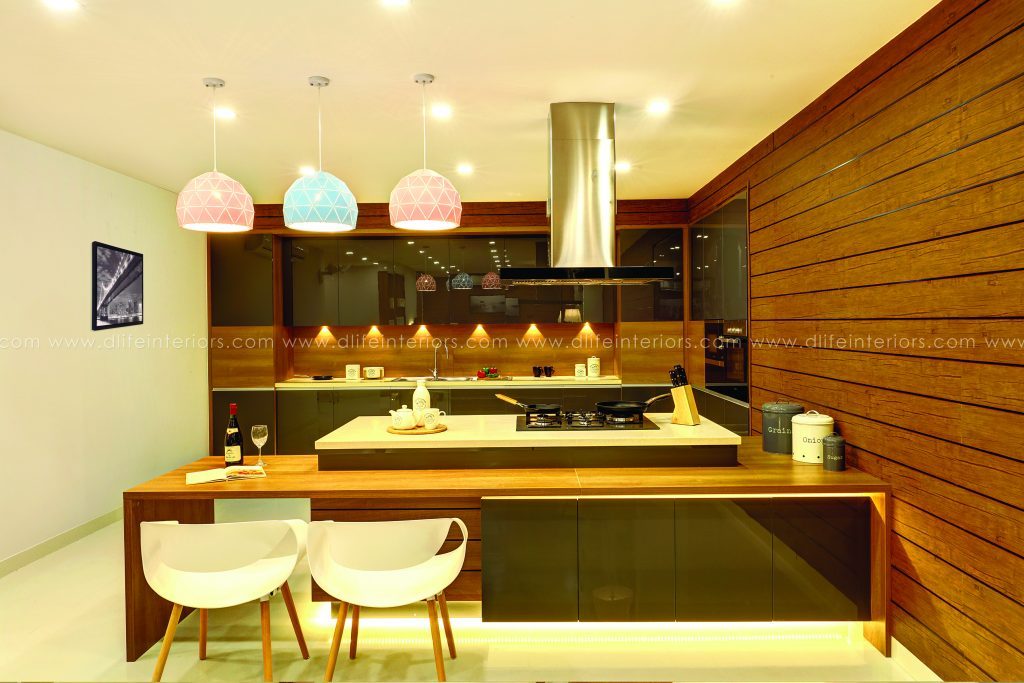 Suraj, the Indian synonym for Sun reflects cheerfulness, enthusiasm and energy by presence. Our client, the family of Mr. Suraj John can have mesmerizing view of sun rise and sun set from their luxury apartment interiors at Marine Drive, Kochi. Tata Tritvam with 6 residential towers provides the most premium 3 bed room apartments in Ernakulam City.
The water front residential project gives tan exquisite and international standard living experience in Cochin. This luxury apartment at Kochi Sited between Arabian Sea and Mangalavanam Bird Sanctuary, brings all comforts and beauty of the city. Vibrant youngsters at DLIFE worked towards designing and building the best living space luxury interiors in Kochi. Of course, it is with complete co-operation from the client and his interests have taken best shapes through team work.
Upscale Living, Grand Dining 
Open floor plan of this living dining space makes it spacious and creates the first impression on entry. Open theme helps to maintain continuity in design and color theme. Here, an airy living area engulf a three 2-seater leather sofas and a coffee table at center. There is a TV display unit on the wall with ledges. It also has storage facility at bottom for electronic gadgets and other items.
Open dining area comes with a table having thick black glass top and six chairs. Provision of storage with bottom cabinets and ledges are given on the opposite wall. A shelf for displaying crockery items is also set up at right of table. The see-through partition between living and dining area with facility to display artifacts is surely a decoration to the space.
Cozy Modern Bed Rooms
Dazzling view of sunset and starry nights from the balcony of bed rooms proffers a relaxing experience in this luxury apartment interiors. Feel of comfort is being importance to rejuvenate body and mind by this premier soothing lifestyle. All the three bedrooms embraces the most modern style.
Master bedroom has a king size cot and two side tables with lamps. There is one niche and shelf above the headboard of bed. A reading table with storage at the downside of the bed offers full utility. The right side of the bed holds a 3-door wardrobe and a dressing table next to it. The other two bedrooms come with queen size cots and two side tables each. Similarly, both bedrooms have reading tables and shelves above them. A three door wardrobe is also present in both of the rooms. All the furniture has a mystic walnut wooden finish or a combination of mystic walnut and frosty white colors.
Capacious Kitchen, International Style
A fully functional modular kitchen design ensures convenience of work with enough storage cabinets and all essential accessories. Apartment embraces a L shaped kitchen according to the floor plan. Hood & hob and all other modern kitchen accessories are of German brand Hettich. Kitchen incorporates a double bowl stainless steel sink with drain board. Galaxy black granite slab serves as the counter top. But, bottom cabinets have frosty white color finish. Whereas, the overhead cabinet have mystic walnut wooden finish.
We are always thankful to Mr. Suraj John and family for the wonderful support and co-operation throughout the interior works. Wish them a pleasant life having a broad view of sunlight and feel of cool breeze at 10th floor apartment in Tata Tritvam, Cochin.
Watch Video 
If you also wish to contact the best interior designers in Kochi to hand over all works from concept to completion just call: +91 956 723 11 11.