Melody of Life in New House at Manarcaud, Kottayam
June 01, 2016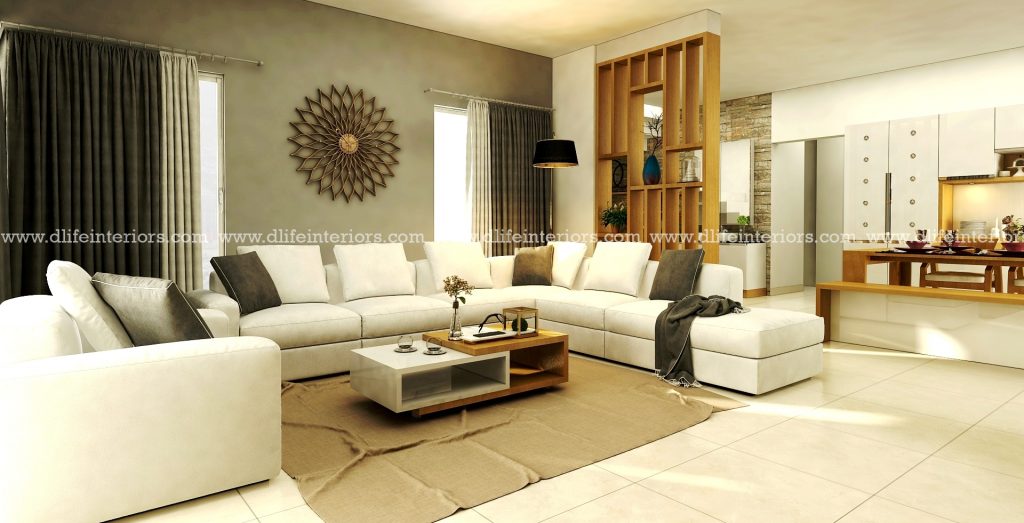 Mr. Sangeeth Thomas, Sales Manager at DBMCSC Steel FZCO Dubai, has realized his dream of an alluring independent house at Manarcaud, Kottayam. Two storied 3800 square feet spacious house with 4 bed rooms, living areas, dining, and modern kitchen with work area got ready to occupy in 2016. When the work was in structural stage, he started thinking of suitable interiors for this contemporary style house built in 10 cents plot. He saw some picture posts of D'LIFE Home Interiors in social media and got fascinated.
As recommended by his friends, he went ahead and chose D'LIFE home interiors in Kottayam to do the entire works including modular kitchen and customized furniture for all rooms. He also had consulted with his relatives living in Kottayam about contractors capable of undertaking whole essential interiors for the house.
Discussions on requirements of home interiors in Kottayam

Mr. Sangeeth, his wife Sheena and two children Sandra and Steve participated in the discussions to share their requirements of furnishing in new house. They made a visit to DLIFE office and show room at Kanjikkuzhi, Kottayam. Modular kitchen that aptly fit the space ensuring essential storage was wife's prime concern. The discussion also involved arrangement of Master bedroom with king size cot, 4 door wardrobe and dressing unit, guest room, and additional bed room . Kid's bed room was a real gift for the 2 children who could rejoice on their visits to Kerala. They chose for pink color wardrobes and a king size cot for their dream bed room. The selection of formal and family living room furniture with care ensured that the house received a premium appearance.
Design in consultation with client
First, we gave the plan layout indicating the position of furniture and revised as per the suggestions from family. Reworking on detailed drawing and improving several times helped to arrive at the best of owner's interests. Taking measurement ensured perfect fit of furnishings to the available spaces in each room.
Summary of Main Furniture and Works Covered
A). Modular kitchen, U shape with upper and lower cabinets and accessories, hood and hob in modern kitchen.
B). Storage spaces in 2nd kitchen and store room in two levels.
C). Bed Room- King Size Bed, Wardrobe with dressing unit and side tables, display unit above the cot and toilet storage.
D). Guest Bed Room – Queen-size cot, side tables, display units above the cot, built in wardrobe with dressing unit and toilet storage.
E). Kids bed room – King size cot, wardrobes with 3 doors, dressing unit, display unit
F). Living areas –There are 3 living areas in 2 levels. Each living room consist of LCD unit in wood finish laminates, center table, display partition with glass pillar, and display units as required.
G). Dining area, wash counter and display units.
H). Interior works included also electrical, lighting accessories.
Execution to Hand Over
Smooth and continuous working of 45 days by a team of technicians and workers headed by project manager could deliver the products installed as promised.  D'LIFE team was enthusiastic to serve Mr. Sangeeth Thomas and family who were understanding and co-operative at each stage of this home interiors project at Manarcaud, Kottayam. We wish this happy God conscious family all the very best in their new style of living. Let the life be a melody for this small blessed family.