How to Prepare Your Home for Christmas
November 24, 2021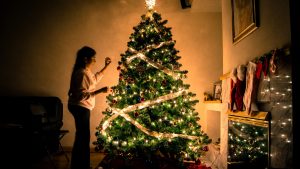 Christmas is approaching fast and without a little preparation, and guests coming over to celebrate, it can become rather stressful if you do not have things organized just yet. We've put together a few helpful tips that will help you have a wonderful stress-free home for Christmas as much as possible.
Storage: Location
Preparing your wardrobe and storage is the most Christmassy activity. Before kids get new toys and clothes, revamp and clear out the wardrobes. You don't want your storage spaces to be feeling cramped. Decluttering rooms, shelves, and surfaces by arranging things, helps to create more spaces for Christmas decoration plans.
Trimming the Tree: Keep it Easy!
We all know that each year Christmas is going to be different but decorating Christmas trees is always on the to-do list. No home is complete without a Christmas tree and no matter how carefully you packed your Christmas tree last Christmas, there will always be some bells, decorations, and lighting that will go missing. Get down to business even before the Christmas evening to make things easier. Whether it's the living room or bedroom, choose a designated space for a holiday backdrop. Consider setting up a fireplace screen for an extra touch of style.
Wreaths and Decorations
Many people focus only on preparing their interiors of home for Christmas guests, but what they miss out is preparing the outside. When it comes to decorating your home, don't wait until the last minute. You're going to be way too busy with other things, so get started early. Put up seasonal touches and decor around the home. Place holiday-scented candles, throw Christmas-themed pillows and above all, spruce up the entryway. With Christmas wreaths and decorations, make your entryways more festive. Lights will brighten your outdoor space and make your home for the perfect Christmas.
If you have guests coming in during the holiday season, stock up on essentials.
Feel Free to Part with it
A home ready for the perfect Christmas is a decluttered and clean home. While bringing up the decorations along with the Christmas tree, declutter the bedrooms, kitchen and living rooms. Clean out and put away all unwanted items. When you prepare your home for Christmas, declutter all kitchen cabinets, countertops, refrigerators and the guest rooms too. Once done, Clean and Arrange items you are keeping, donate, and throw out the others.
What Does "Worth it" Look Like?
Christmas is a season for everyone to take a break. Do justice to the season and set the mood of your Christmas home interiors for a relaxing, enjoying and bonding time- all in one. Particularly if you are planning on welcoming guests, Your decorations should look festive and you may want to give a warm welcome to guests before they even set foot in your home.