How to Organize a Small Bathroom and Make it, as you want it
November 12, 2021
A small bathroom can seem like a challenge. The bathroom is a space where self-care is practiced and you may feel like you don't have enough room for your products and there isn't much space to relax when you have a small bathroom. But with proper storage, organizing, and accessible solutions even a small bathroom can be a better space.
Avoid the Bathtub in Small Bathroom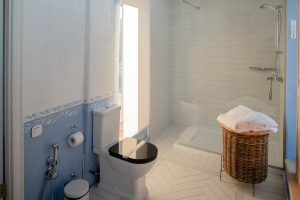 Bathtubs are great but they take up a large amount of floor space. Most modern bathrooms have a bathtub or separate shower space that takes up space. Even a bathtub of standard dimension takes twice the amount of floor space than showers. So, in order to organize the space, incorporate the shower with the rest of the bathroom with a glass partition. This way, the bathroom looks to its true and full tone and gives a lot of space. Planning for a simple glass partition by avoiding the door can serve the purpose. Also, make use of organizational tools such as shower caddies, shelves and racks to keep things on track.
Consider the Essentials
Mirror is one of the most important features in a bathroom. Mirrors have the ability to add character and functionality to a small room and make it appear bigger and brighter overall. Choose a unique and aesthetically pleasing mirror and make sure you consider the measurements before buying one. In addition to this, as part of lighting, opt for sconces beside or above your vanity mirror. We strongly recommend installing the right lighting to brighten the bathroom. Make it small but bright enough to overpower the space.
Go for Sliding Door
Sliding doors have become very popular in recent years for many purposes. The main idea of sliding doors is to conserve space compared to swinging doors. Since sliding doors operate without a hinge – instead of swinging open, they simply glide along a rail. They are easy access and one needs to gently push them and they will glide open. Consult with your building contractor or an expert interior designer to have the bathroom done your way.
Put the Storage Units on the Walls
Wall-mounted sinks and storage units are an excellent way to save floor space. Shelves will hold several products, beauty accessories, toilet paper rolls, or towels. It makes the small bathroom appear more open. If you opt for wall mount storage just under the sink, you'll get more things assorted in less space. Also, add shelving above the entry door or vanity mirror and make sure to opt for narrow shelves to keep the look light.
Think for Future
With small bathrooms, you need to be careful with colors. Bright colored walls make the bathroom feel larger. Look for wall tiles that match your shower tiles. This way, it produces an illusion of a continuous floor and matches the color and tone.