The Upholstery Guide – Things You Need To Know
December 10, 2021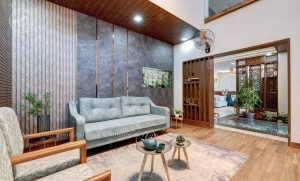 No matter what home design project or style you're undertaking, knowing the various upholstery options no matter how big or small, can do wonders in lifting the aura of the interior. Every project has its own unique requirements. Thus, using the right fabric at the right amount makes sure you're making the most of your space! We put together an upholstery guide to some of our favorite upholstery fabrics to help you decide what is best for you!
Expected Usage
Selecting the best upholstery fabric is both an art and a science. It is also something you need to get right. The first step in finding the best upholstery fabric is to have a clear idea about the expected usage of upholstery. Will it be something that will be used a lot or used as a statement piece? For statement pieces that should be truly special, go for a more decorative fabric and On the other hand, everyday sofa for living room should have a high Martindale result.
Choosing a Fabric
Not all fabric is made equal but don't make the mistake of choosing cost over quality. Some are generally more durable with longevity and level of use. Some fabrics are extremely durable and withstand varying levels of pressure. Some of basic fabrics and a few that tops the list of our furniture upholstery guide are linen, cotton, silk, wool and leather. Synthetic upholstery fabrics are also available in the market with superior durability. Linen and cotton are the strongest and durable natural upholstery options available. It is a perfect choice for the soft furnishing in formal living areas.
Leather on the other hand lasts longer than most upholstery options and is very easy to clean and maintain. Genuine natural leather is considered one of the most durable in terms of overall quality to cover couches and chairs. It's easy to wipe clean and can withstand wear from children and pets. Yes, it is an expensive option but it is quite tough and is guaranteed to last the touch of time. We love using leather. It is classic, strong, and blends well in almost any space. It's still pretty even when it has natural scratches. No matter how much wears down, it just gets better over time. Another fabric option to consider is the upholstery guide is wool. Blended wool is durable, sturdy and has stain resistance properties. Known for its luxurious beauty, silk is elegant, lightweight and natural. The only drawback, it requires professional cleaning and stains easily.
Patterns for Design
There are a lot of fabric patterns available on the market. Upholstery fabrics with patterns or digital print are an excellent choice when you want to refresh the home decor. Prints and colors always impact the energy and look of any space. The display comfort and warmth it brings combined with a distinct appearance makes it a good choice for formal living rooms. Designs are available in a variety of textures and colors to suit every mood.
Have fun and Live Well
Upholstering a piece of furniture is not something most of us can do. It is an investment to keep you happy and comfortable for years to come. If you're stuck when it comes to choosing your furniture, get the help of an interior design company to help you out! And don't stop by just picking the upholstery, a little maintenance then and there, and your sofa lasts for years.