Back to Kerala for a Cool Riverside LIFE
August 05, 2016
Away from Hustle and Bustle of Ernakulam City, at River Side
After many years of experiencing life abroad, here comes a beautiful opportunity to live a peaceful life at Ernakulam, Kerala. Here is an example of premium interior furnishing in Ernakulam that anyone would love to live in. Mr. Mathews Philip and family are extremely happy with their choice of villa at Ernakulam. Located at Vennala – Eroor Road, near Arkakadavu Bridge, Tripunithura, Ansals Riverdale is far from the chaos of Ernakulam. The house has easy access to the city with about 5 KM from Vyttila, 4.5 KM from Palarivattom and 4.3 KM from Tripunithura. A gentle stretch of Kaniyampuzha river embraces the western boundary of Riverdale colony spread out in about 12 acres. The 4BHK villa has an area of 2570 and all the common amenities are available for a comfortable living. This villa is designed and executed by D'LIFE interior design team along with complete customized home furnishing in Kerala.
Art of Interiors for Aesthetic Feel Inside
Contemporary style of interiors and furnishing matches the house as well as the taste of the inmates. On entering in to the living room of the villa, our eye catches the sight of two decorative display units in Canadian Walnut wood finish on walls. The center of attraction is a large size coffee table in dual color combination of Canadian Walnut and Frosty White surrounded by a 3+2+1 sofa set. A living dining partition can also be seen there. Interiors done using laminated Hardwood MDF and Marine ply ensure durability and style.
Coming to the dining room, we can see a custom made six-seated dining table with brown beveled glass top and a TV display unit having storage facility. The dining is also equipped with a common wash counter with overhead and bottom cabinets. One customized small center table and a bar counter unit is setup in the ground floor balcony area.
Modern Kitchen and Master Bedroom
The kitchen of this villa has plenty of space and hence adopts a U shape layout. Hood and hob fixed to the right portion and sink placed at the middle of the U shape blends seamlessly with the decor. A tall unit attached to the left end provides space for the oven and grill. All essential modular kitchen accessories like baskets, trays, pullouts, lemans corner, waste bin etc. are inside drawer storage and cabinets. A breakfast counter is also set up at one side. Overhead cabinets and lofts have a Black Currant glossy finish whereas bottom cabinets have Frosty White Finish. Moving to the master bedroom, we can see a king-size cot with headboard paneling and bottom storage. Two side tables arranged on either side of the cot provide ample space for storage. The display unit fixed above the headboard of the cot offers space for artifacts and photo frames. The room engulfs a study table with drawer storage and a 4-door wardrobe with lofts. There is one guest bedroom on the ground floor and it has custom-made storage and lofts.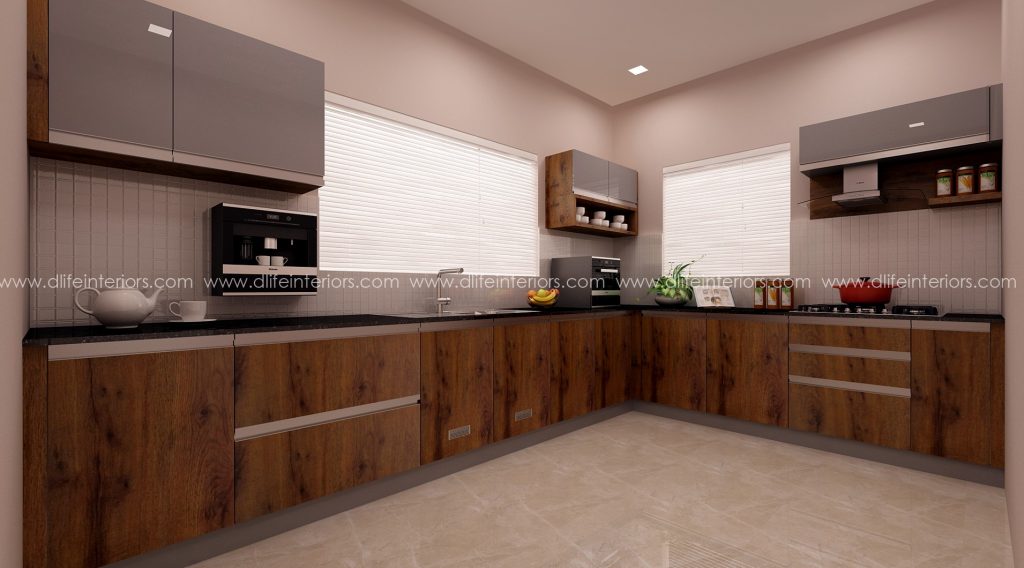 Interiors of Upper Living Space and Bedrooms
The main LCD TV display unit for this villa interior project is at the upper living space. The unit serves as a bookshelf cum display unit spreading over the entire wall. Another bookshelf provided at the entrance to a bedroom creates an exceptional distinctive styled look. The living space also exhibits a center table and a sofa set. All the furniture here is done as part of customized interior furnishing in Ernakulam. Giving Individual considerations while designing gives the perfect blend of style, and functionality. One of the bedrooms adopts a pink theme and other a purple theme. Both come with queen-size cots with headboard paneling and bottom storage, display units and wardrobes in matching design. One bedroom has a study table unit whereas the other gets a dressing unit. Open Storage, pelmet, paneling, and shutters for Kitchen work area and customized shoe rack are also part of this project of villa interiors in Ernakulam.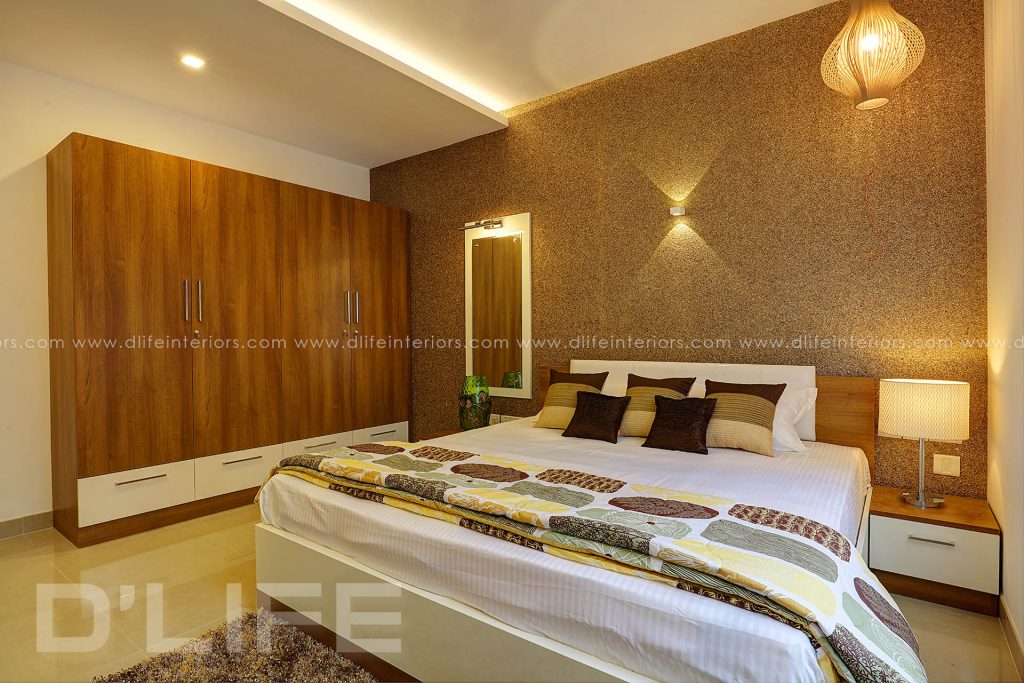 Click Here to Watch the Video of this Project.

How to get villa Interiors in Ernakulam Done by Professionals?

Apart from a place to live, home has become opulence in man's dream. With the current trends and future potential, people have started choosing group villas or vertical villas with complete interior furnishing in Ernakulam. Today, ready to occupy villas are available in main cities as well as towns in Kerala without having any hassle for building them. Giving importance to comfort and personal interests of family members is a must while planning villa interiors. With little effort, one can get the help of a professional home interior design company in Kerala from concept to completion; just call: +91 956 723 11 11.