Make Luxurious Master Bedroom Interior Design in Kerala
Mar 28 2019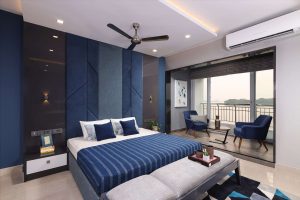 Premium Quality Bedroom Interior Design in Kerala
Consider the bedroom of a luxury hotel; even the outset gives a relaxed positive feeling. A master bedroom should evoke the same feeling when you walk in. A bedroom is where we spend one-third of our entire life. They are more than just a place to sleep; they are sanctuaries where we spend valuable time regardless of our interests. This is why premium master bedroom interior design in Kerala and Bangalore have been gaining attention lately. In addition to making welcoming living and dining areas, we have been paying attention to overhauling bedrooms to luxurious spaces at a fair price.
But what does it actually take to create a luxurious master bedroom interior design in Kerala or Bangalore? Is it the huge sum of money or choosing the perfect solutions that intend to give the perfect makeover? Experts in interior design and implementation provide guidance to give your bedroom a facelift with effective tips for choosing luxury the right way.
Refresh the textiles
The best part in transforming bedrooms into a cozy luxurious den is revamping the textiles. Go for top quality freshly crisped cotton beds and curtains. Forget about the bed's thread count rather touch and feel the comfort and quality it offers. If you feel like you are in the lap of luxury and it offers an incredible and comfortable night sleep, then that is the one for you.
Throw in pillows in different sizes. The triple sheeting trick of layering comforters among sheets creates crisp and clean master bedroom interior design in Kerala. Add more pillows or even a soft plush blanket for the exclusive five-star treatment. Well-tailored window curtains elevate bedroom space. However, choose wisely whether to have curtains or blinds. Have them professionally tailored to suit the window size. In certain cases, adding an extra meter or two can fake a wider area and an elongated plush look to the windows.
Dress your walls
The right palette is absolutely crucial. Neutral colors such as creamy whites, shades of light blue and beige create a serene sense of mind. Painting the room with neutral shades and elegant furnishings creates a space where one can escape from the chaos and rest peacefully. Unless going for a super minimalist look, go for white walls. However, to make it stark luxurious, embrace high contrasts, wallpapers, or textured painting for more of a designer-inspired look. Even a crown ceiling molding or false ceiling adds sophistication to the entire walls. False ceiling and crown molding takes very little money and are super luxurious.
Organize the Space
Nothing feels more offbeat than a messy space. Create storage units or spaces for everything in the bedroom. Be it your daily beauty essentials or the clothes you have not been using for a long time. Additionally, add a walk-in wardrobe or a vintage boutique. A bed with bottom storage is another way to create more space and take maximum advantage of it.
Lavish lighting is a must have
To help you soothe away into a dreamy realm, have dim lighting or bedside table lights for the luxury factor. Alternatively, investing in hanging lights, wall lighting or false ceiling lights will give a well thought expensive look. Adding all this diverse element of lighting creates a variety of moods and serves multiple functions. To achieve the epitome of functionalism focus on what you want from it. Consider what all you do in a bedroom (sleeping, reading or yoga) and choose the right lighting.
Add Greens and Decor
Plants should not be limited to living and dining alone. A touch of greenery in the bedroom will look virtuous and spread subtle fragrance. Position an antique Japanese floor vase or stone vases in a corner to make the room look its best. In addition to this, choose the best wall arts and décor to make bedroom look elegant and impressive.
Personalize
Personalize or customize everything by luxurious master bedroom interior design in Kerala or Bangalore. This can start from rugs under your feet to the ceiling patterns. Whether you have a wooden floor or tiles, a set of styled rug enhances the comfort and elegance of a master bedroom. Make sure space is uncluttered and neatly arranged. A wall mounted TV unit is also a perfect addition to the master bedroom. A flat-screen TV with stereo system lets you watch movies from the comfort of your bed. A fully customized wardrobes available in different sizes helps to organize everything exactly as you wish.
Additionally, in case the bedroom is spacious, make room for a comfortable armchair. It is not only elegant and comfortable to sit on but also level up the luxury. Moreover, depending on the style, also opt for headboards for the bed. A high top natural looking headboard with soft fabrics not only gives great back support but also stands out giving the luxury the room deserves. Remember to go with the eccentric personal touches. Keep the room simple but with a touch of fun, personal and quixotic elements. A mirror in the bedroom will add a luxurious vintage lace and a spectacular room reflection. Scented candles, decorative wall arts, an internal gallery of framed prints intensify the chic look and visual interest. Get the help of expert interior designers in Cochin, Kerala and ensure convenience and luxury in the master bedroom.