5 Ways to Get Best Kitchen Interiors in Kerala
July 14, 2016
Things to Know While Planning Kitchen Interiors in Kerala
Apart from all other rooms in a house, modular kitchen gives the prevalent visual impact in interior design and furnishing. Various aspects play key roles in the luxury appearance of kitchen interiors in Kerala. Cabinets are not the only kitchen amenity where customization is critical. Sometimes, it come in standard size with matching door shutter options. As per the choice and budget, it is up to the client to bring them into life with the help of a professional interior design firm. Here are five simple ways to make your kitchen interiors look luxurious, modern and attractive.
1. Begin by Selecting the Right Shape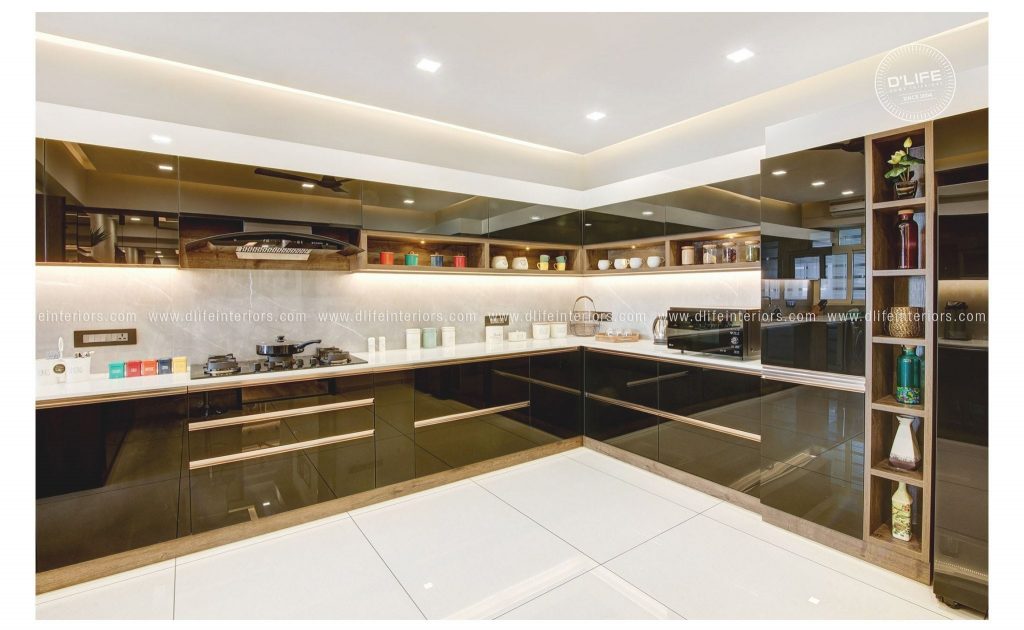 Prominence must be given for selecting the right shape if you are looking for a perfect laid out kitchen. The distance between hood and hob, sink and work-space should allow flawless movement and easy work in any modern kitchen. Experienced interior designers in Kerala can help you in this as per the size, shape and layout. You must be also cautious on your requirements while choosing the shape. L –shape, U – shape and Island kitchens are most preferred for flats, villas or houses.
2. Get the Right Height and Width
Planning is a must before furnishing a kitchen. Correct height for counter top and overhead cabinets is necessary for smooth working in kitchen. If you prefer a contemporary or modern kitchen just leave it first to give the most suitable design. Owner should be able to suggest changes, discuss the alternate options and decide the best possible style. To increase the size or to accommodate some essential facilities, alter the kitchen structure. Extra overhead cabinets or loft can enable more storage space.
 3. Think Where to Splurge
Upper and lower cabinets take up the largest portion of total budget for modern kitchen. Select designs with minimum cabinets. As it is a long-term investment, it should be of your requirements and need. Both premium and economy range of kitchen accessories are available to select as per budget. However, Convenience and style need to be given importance while designing a suitable modular kitchen in Kerala. The right selection of materials and its durability also needs to be considered when going ahead with kitchen works.
4. Provision and Care for Accessories
Planning is a must before giving the work of kitchen interiors in Kerala to a contractor. Cabinets are not the only things that make a modern kitchen functional. Kitchen accessories are also important. Hood and hob is essential and inevitable to go with a kitchen design. Choose GTPT, cutlery tray, a cup & saucer tray and baskets for drawer storage. Waste bin, bottle pull out and detergent holder are also necessary. Cabinets offer ample space for storage to accommodate all the required accessories .
 5. Ambient Lights up Makes it Bright. 
Lights give the final bright touch to a kitchen to make it attractive to the visitors. Lighting keeps the elegance of a kitchen and enhances its appearance. Where to give the lights should be left to the discretion of interior designer. Minimum lights at suitable places should be added to the requirements while entering to a contract for kitchen interiors in Kerala and Bangalore.
In any of the customized home furnishing works, kitchen is the most important area to focus. Therefore, get the design, discuss the above specifications before finalizing an agreement. Know about the material quality, finish, accessories to ensure best results out of the works.