6 Rooms in a House Where You Live Merrily
June 13, 2016
Make House Interiors in Kerala with Perfect Plan & Design
Family life is mostly revolved around these most important 6 rooms in a house. Therefore, it is important to get house interiors in Kerala with best appearance and endurance. Furniture in these rooms should fit perfectly to the space and match the interest of family members. In this case, you should surely go for the customized interiors with proper planning. Matching each other, perfectly compatible with the size of the room furniture made by design is the best choice.
If you have a house or flat in Kerala either ready to occupy or about to complete, start looking in to the works of interiors too. In case the flat is of about 1400 square feet the below specifications make the furniture fit exactly to the space inside the rooms. Adding more storage, items or extra fittings, interior designer can include them at extra cost. If the size of the flat or house is more than 1600 square feet client may need to go for bigger units that fits better to the rooms, by exact measurement.
1)      Kitchen – Design as per Space with Adequate Storage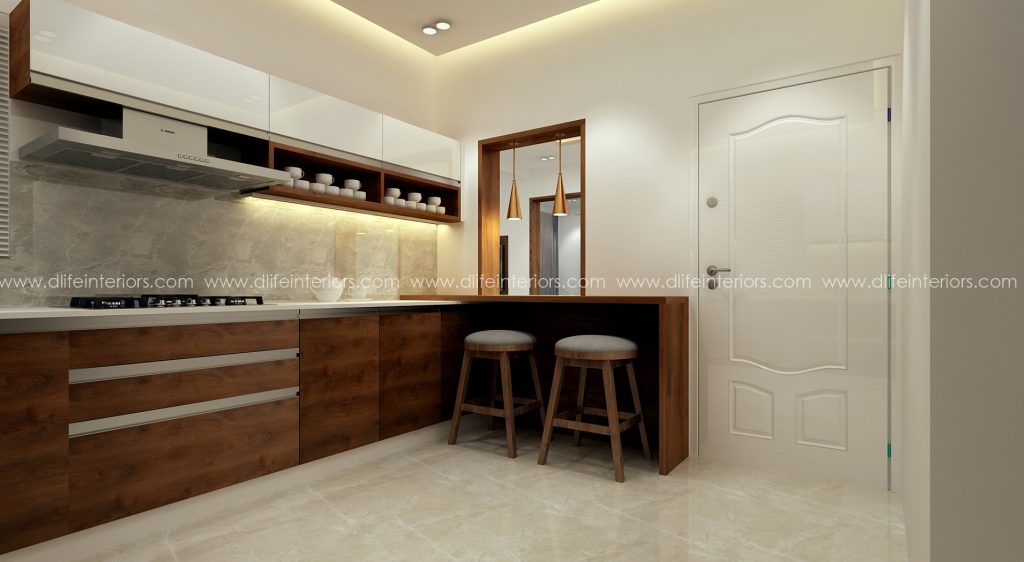 Kitchen is the most vital part of a house where you are going to spend a bit of time daily and that is inevitable. Therefore, you need ease of work and sufficient storage for easy reach of things. Hood and hob, worktop and sink etc precisely in place, make sure that flawless movement is possible in kitchen. Even though five shapes of kitchens are available, more preferable among them are U shape and L shape kitchens. Straight kitchen is apt for kitchens having comparatively less space. Parallel kitchen is for professionals and cooking enthusiastic. Thus, functionality and beauty are equally important factors while planning house interiors in Kerala.
 2)      Master Bed Room – Wardrobes  and Queen Size Cot with Side Tables
Master bedroom of an average 1400 square feet house or flat requires a queen size cot having a size of 158 x 200 cm and one or two side tables. At least a three-door wardrobe is necessary for every master bedroom. Here a 210 x 120 x 50 cm wardrobe having 3 doors would fit in to the bed room perfect. A dressing unit can also be integrated to the wardrobe or provided as a separate unit as per availability of the space. If there is sufficient height for the room, a loft can be added to the top. Quilt, premium bed sheet, bedside carpet, wall pictures, bedside lamps, wooden blinds and wallpapers also can be added to give that dazzling effect.
 3)      Guest Bed Room – Cot, Wardrobes etc. Essentials
Nowadays nuclear families living in a 3BHK flat reserves one bedroom for guests. Even if it is not used on all days, that guest bedroom also needs some modern essential furnishing. A queen size cot is apt for this room. One or two bedside table can be added as per space availability. As a part of bedroom, a 3-door wardrobe is adequate. All these can be put under your budget by proper planning and designing. Rely upon a professional and truly beneficial interior design company in Kerala for your requirements.
 4)      Children Room

Surely, one room in each home is for the kids whether they are one two or three. Children love colors like Parrot green, Danube blue, Marie gold and Bubblegum, which are readily available at D'LIFE Home Interiors. Bunk beds are the best choice for kids as they can save space for a useful study table. Wardrobe for children's room is a must so that they can go organized with their dresses for school, home and other casuals. Wardrobe with 3 doors and full size mirror is sufficient for kids and it is more convenient that if a study table can be integrated to it. You can think of single cots instead of bunk beds if children are a little bit grown up and that will be helpful for future.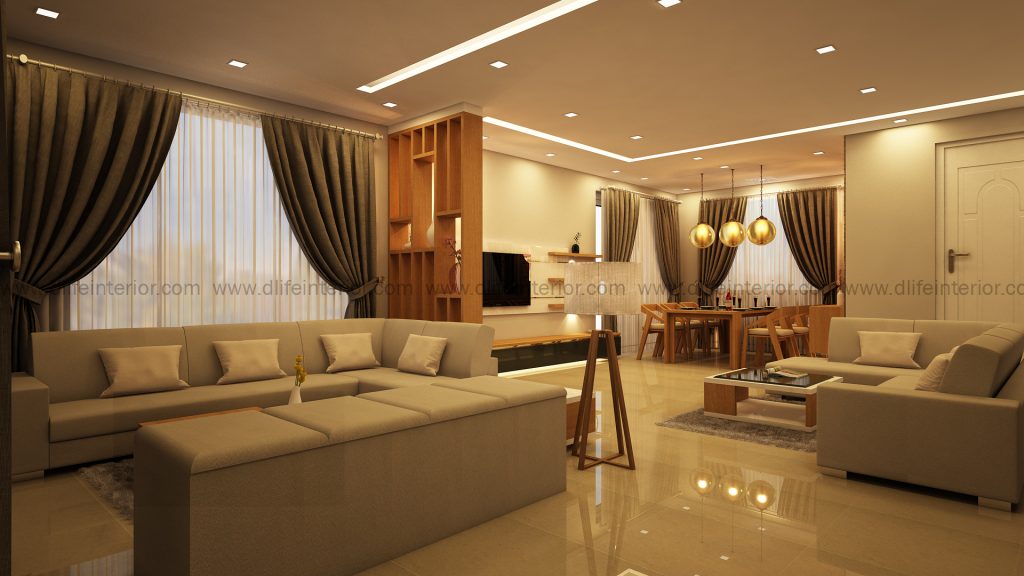 5)      Living Room / Area – LCD TV Unit, Shoe Rack
Living room is the area in a home where all the members of the family spend the most time together. Furnishings here should be equally adjustable for every member of the family. A T V Display unit is an unavoidable part of living room. As per your taste and wish, shelves or storage spaces can be built in for home theater, music systems or other things. Shoe rack is another unit that can be integrated into your living area or foyer as part of house interiors in Kerala.
6)      Dining Room / Area as Part of House Interiors

The house becomes comfortable home when the members share their emotions and make perfect bonding, and the best way to do it is through a quiet and warm meal with your family. So dining area is another vital part of your home. Be precise to select furnishings for dining rooms. You can choose customized dining table and chairs as you wish. A suitable partition between living and dining room is another facility that comes only with customized house interiors in Kerala.
Let us work together and make the arrangement of furniture and decorative units the way you wanted them to look graceful. All the 6 rooms in a house can be uplifted with suitable furnishing and decoration as it fits the budget.