Complete Balcony Makeover for Home
June 29, 2019
Spacious balconies offer a wide view of surroundings and the skies with a relaxing aesthetic. It offers ample amounts of fresh air and sunlight where one can step out. The home balcony space is often taken for granted while planning and executing interiors for houses and flats. We often fail to understand that this space can also be a useful area, just like any other facility inside a house. While many balconies remain unused, they can still be turned useful and practical with some makeovers and hacks.
How to nail balcony makeover on a budget
Spruce up a boring balcony space with reasonably inexpensive tiles, a storage bench, plants, or a mini barbeque grill. We often focus on opulent living room decorations and neglect outdoor space, which can be turned into an alluring expanse within a low budget. Before starting to decorate the balcony, make sure to measure the area and plan the furniture accordingly. Oversized furniture pieces can end up making the space all the more unusable. One of the best ways to make a small balcony bigger is by adding glass doors, deck tiles, and rails for the balcony fence. Balcony railings are a graceful affluent in the traditional and contemporary architecture. Not only do they create a visual harmony, it also creates a special view of the outdoor setting. These are a visual appreciation and elevate the space's dimensions.
Decorating balcony with plants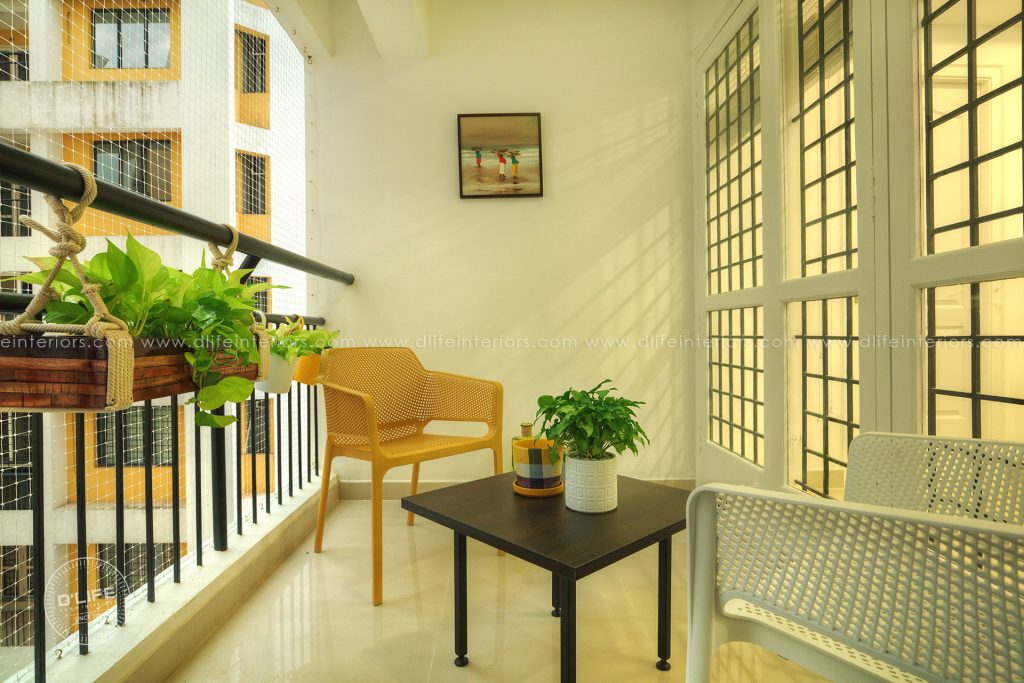 Sometimes all your balcony needs is a balcony garden with beautiful and original plants. Balcony plants can be in hanging baskets, clay pots or containers. Addition of a balcony garden will give a natural and organic vibe to the space. One can even create interesting effects in their balcony by combining herbs, vines, flowering plants, and vegetables. Bougainvillea, Indian Basil, Bonsai banana plant, Aloe Vera, creeping roses, money plant, Areca palms, and spider plants are some of the common plants for Indian balcony gardens.
Flowers in the balcony are always a good idea for the complete balcony makeover. Bougainvillea; with its beautiful colors, large size and long flowering period, introduces intense color to any design. While arranging plants in the home balcony, make sure to place them in the shaded or sunny areas depending on the plants. Just like outdoor plants in the garden, this also needs good care. A proper drainage and placement aligned with the strength and direction of the wind gives the added benefit of being evergreen and the effect of a real garden.
The Ideal furniture for balcony
When considering buying balcony furniture, it is important to know the factors such as number of people who use the balcony regularly, location of furniture, and how you want the space to be. Considering all these factors will help you determine the right decorating ideas and the furniture best for you. It is important to buy furniture treated with UV stabilization, as balcony furniture is prone to ultra violet deterioration. A spot with a combination of metal and wood turns your contemporary home balcony into a sleek spot. Wood is the ideal material for outdoor settings. If you are on the lookout for more reliable furniture, consider teak. With its high mold resistance, Teak creates a masculine vibe and a statement to the balcony space. Adding a great outdoor rug on the house/ apartment balconies is more inviting and cozy.
Seating with cushions is another aspect that we often forget to overlook. Chairs with lack of cushions can make it look unfinished and all the more uncomfortable. Thus, cushions have to be weatherproof, light, and easy to clean. Combine it with a glass top coffee table, the balcony space becomes well functional and comfortable.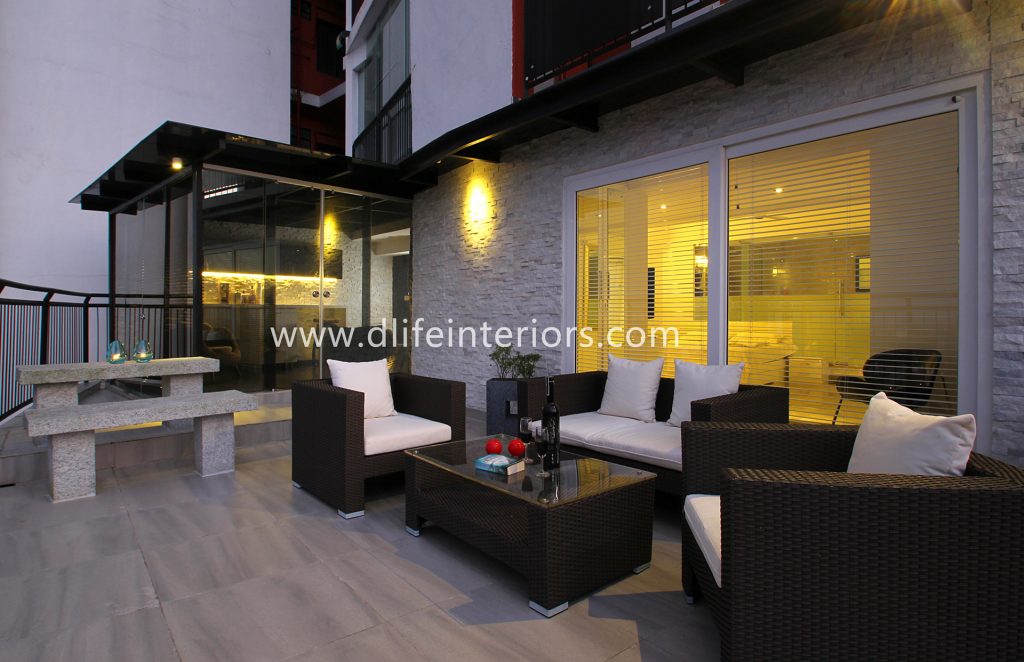 The image above is an apartment balcony space transformed by DLIFE Home Interiors, Kochi. Before, it looked totally barren and unused and definitely not what the owners would have imagined it to be. Our interior designers pulled in a little more character with seating and a coffee table.