Living Room Decoration: 9 Mistakes to Avoid
April 12, 2019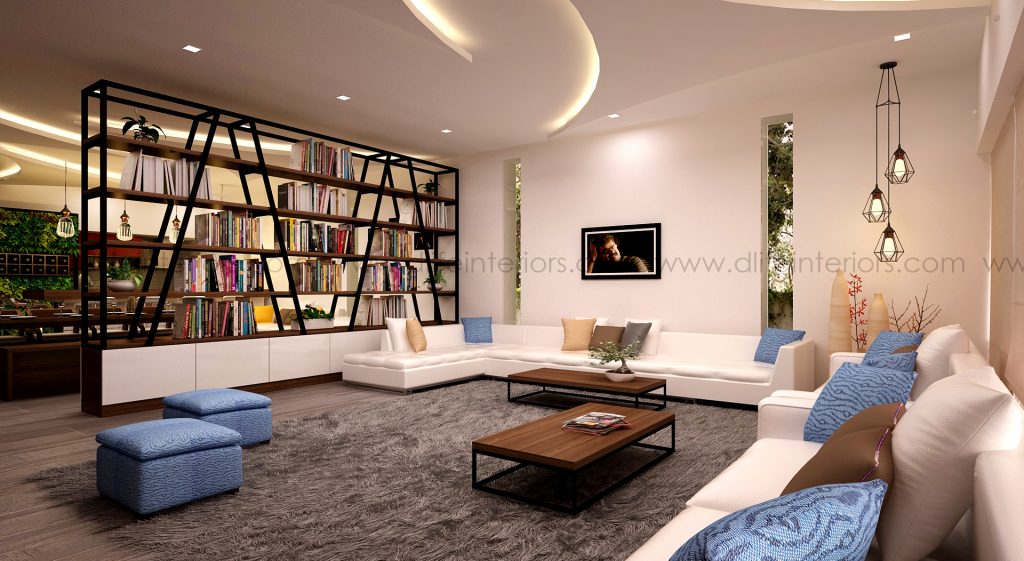 The living room is the most active space where we spend quality time together. The living room furniture echoes your personality so utmost care is essential when designing your dream living room. When the living room design is overfilled with numerous décor stuff, it might not be appealing to the guests. Just like a beautifully directed movie, a well-designed living room is at once attractive, impressively familiar and safe. However, most of the people take the design aspects into their own hands rather than assigning a house interior expert and end up with cramped and hideous living spaces. Let us find out the most common decorative mistakes that everyone makes.
Uncomfortable Lighting
The first, most important step in having the perfect living room decoration is lighting. A living room cannot do with only one or two lights or with just a chandelier. Have the perfect lighting system that accounts to your various moods with ceiling lights, reading lights, floor lamps and so on.
Improper Rugs
Improper placement of rugs often brings imbalance into a room. You might have often seen rooms with rugs that just cover the coffee table and another set of rugs just for the sofa chair. This styling is a big no in case of the modern interior designs. The styling not only is hard to maintain but also forms a clutter. Choose the correct set of rug for the living that is visually large and extends its space. A large rug that covers the coffee table, as well as the sofa set, adds a touch of brilliance with an elongated look.
TV and furniture placements: Misunderstanding Proportions
Placing the TV or furniture facing the window is one common mistake we make. Do not install TV close to windows as it prevents the view. Moreover, the distance between the sofa and TV unit must be between 3-5 diagonals. Make sure the furniture is comfortable and looks nice with the house.
Uneven Sofa and Furniture
Every living room deserves an inviting bright accent. Be it with the case of artworks, furniture, wallpapers, anything, and everything should attract attention. To make the living look it's very best, emphasize it with complex tones or contrasting colors. Additionally, one of the most common living room decoration mistakes we make is placing furniture that is disproportionate. If possible, get the furnishings customized. Customized home furnishings have a number of benefits compared to ready-made furnishing. In the case of small rooms, try placing a two-seater sofa and armchairs. Placing large living room furniture makes the room look smaller and less spacious. Buying dark furniture with low ceiling floors makes the room cramped. Therefore, choose furniture with neutral shades for low ceiling rooms.
Wrong Wall Art
The perfect height for hanging wall art or photo frames is 153cm from the floor. Hang photo frames in a specific manner so that it seems seaming blended with the walls and furniture.
Neglecting the Functionality
It is to be kept in mind throughout the living room decoration to make use of the space. It is easier to keep balance in a square room than a rectangular one. If you have a rectangular room, use partition units that set separation between the two areas but still provide enough space to let in light and hold the spacious feel in the room.
Forgetting Green
Plants add a touch of glam and green to living rooms. However, having too many plants in small pots around the room can make you feel like you are in a jungle or an unkempt place. It is better to place a large plant in a corner. This makes the room seem cozier and lively.
Averting Mix and Match
Another most common living room decoration mistake we make when furnishing is following a solitary design pattern. Though this may seem interesting at first, as time passes by it loses its charm. To sustain the warmth and coziness, mix and match various styles. Mixing eclectic with contemporary or traditional with modern will make your living room design livelier and original.
Less Impressive Curtains and Blinds
An incorrectly hung and visually unpleasant curtain that does not mix with the walls makes the room smaller and worn out. Therefore hang curtains as wide as and as high as possible to make the room look larger. When choosing the textile, go for brighter  or saturated colors and ones that let light pass through.
No matter your requirements, the right interior designers will simply comprehend your needs, lifestyle, budget plans and do their best without any flaw. Hiring an Interior Design company can understand your preferences and stretch you a vision of your very own notions, and aid you to design a space that ties your preference reflecting your style. Being the promising interior designers in Kerala, we can assure you that we can deliver 100% quality works and leave no stone unturned.