Dining Room Design Ideas for Hosting in Style
January 24, 2022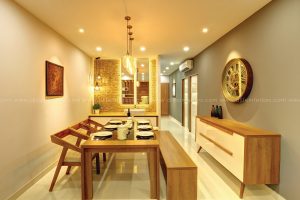 Exclusive over the top might have been a thing in the past but when it comes to the new age of dining, these spaces need to be a link between living and kitchen and also command plenty of attention. It's important to create a space that hosts with ease and extends a warm feeling to the guests. From hanging chandeliers to others, there are plenty of choices to create relevant dining choices. Here are some dining room design ideas for you if you want to host in style.
Think Multifunctional
Rework your dining to incorporate a TV area or try out clever, space-saving furniture that fits, lets you sit down and make use of even the smallest of spaces. Dining room design ideas range from making changes in walls, doors and even the layout of the space. It's important to know the function it will serve if you are planning to spruce up the dining. Pick simple designs that accommodate your everyday activities and also hosts large get-togethers and celebrations. In small dining, benches can be a perfect space saver as they do not take up your precious floor space and can be tucked under the table after use. Get table options that can be expanded, foldable or separated and put away when needed. By this, you can easily adjust your space and seating as per the number of guests.
Add Statement Art
To get the dining room right, the first aspect to consider is the table and chairs. Color plays a major role in setting the ambience. Go for cozy looking bright or pale statement pieces that completely transform a space. Unique textures, wall arts and décor add more dimension to the space even if you have a minimalistic dining room design scheme. You can achieve the same effect of style with photography or poster prints, too. In addition, you can also go for a gold-framed antique mirror.
Go Bold and Glam with the Design
When choosing the palette for your dining room, think of how your friends or family are like and also think of the feeling that you wish to convey in your room. If you want the relaxed side, get yourself simple minimalistic shades and accessories. If you want it more towards the luxurious or cozy, then an accent wall, rich color schemes, gradient designs that would give a unique touch to your room and that doesn't overwhelm the senses is always a safe bet. Rather than solely providing light, trendy and attractive lighting fixtures with the right proportion, the dining room appears attractive. So, create a modern dining room design just next to the living room and convert it to an enjoyable space.
A Dining Room that Reflects Your Hospitality
If you like spending time with family and friends and enjoy cooking and dining, your dining room is unquestionably your favorite place. And, if you have a craving for good taste and style, design a dining space that conveys your vibe. Do you feel inspired by these? Schedule a consultation with an interior design expert now for assistance.