A 3BHK Home Interior in Chennai with Visual Appeal and Subtle Glamour
October 14, 2022
This apartment in Chennai, Tamil Nadu is home to a couple and their two children. We were approached by the couple to design contemporary house interiors that is functional with clean aesthetics and bring in as much light and air to create a warm and cozy ambience. This home interior in Chennai adopts an open-plan living-dining room and has three bedrooms and a contemporary modular kitchen. All the furnishings and decor are custom-made by our team of interior designers to meet the requirements and aesthetics of the clients.
Living and Dining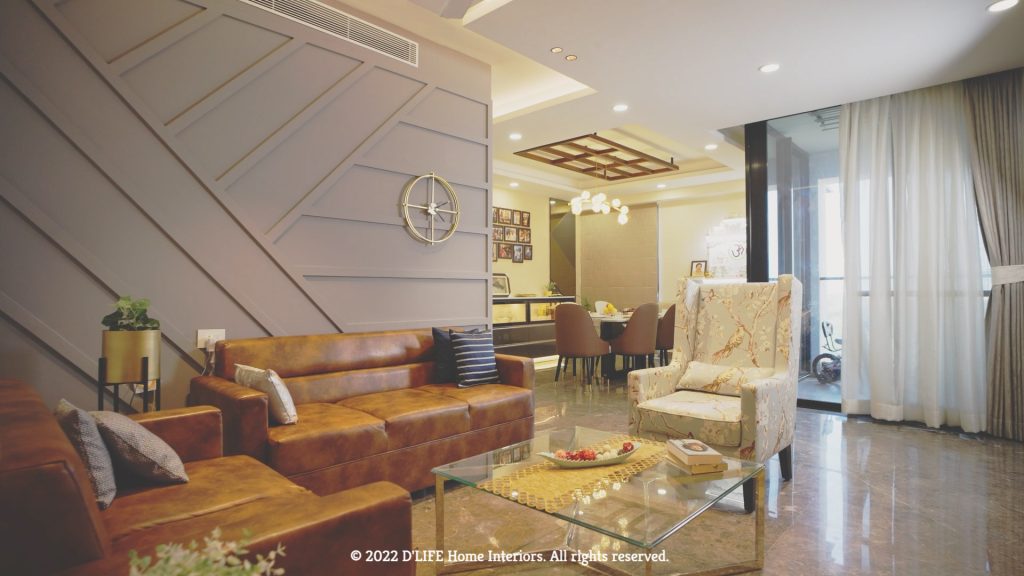 The main door of this Chennai apartment opens into a spacious interconnected living and dining area. The open plan creates the illusion of more space in this home. A brown-themed sofa and an abstract wing chair placed in the living make for an intimate space. Accent lighting used in the false ceiling amplifies the sense of space. At the other end of the living room is the dining. The dining room design embraces beautiful hanging lighting and adds shine to the six-seater dining unit.
Stylish Modular Kitchen
The kitchen is a visual fabric of the living and dining space. The modular kitchen interiors embrace built-in cabinetry, consoles and cooking spaces which are conveniently located in the room. Its wooden cabinetry echoes an organic counterbalance to blend in with the rest of the home.
Ultra-modern Bedrooms
Each bedroom of this home in Chennai is a reflection of the individuals living in it. The master bedroom exudes a sense of calmness and sensibility. The bed is hosted by a wall-mounted wardrobe and loft. A built-in wood-toned TV unit stands opposite the bed. It also has a surface for books and other decorative items. The furnishings, accents and other design solutions which include the bedside table, curtains, and photo frames, all add a nod to the theme of the room.
Along with the master bedroom and kids' bedroom, this home interior in Chennai also hosts a guest bedroom. The guest bedroom also embraces the touch of elegance. With a warm and green color and element of texture combined, this bedroom adds volume and texture to the entire space. The natural light flow that floods through this room are fantastic.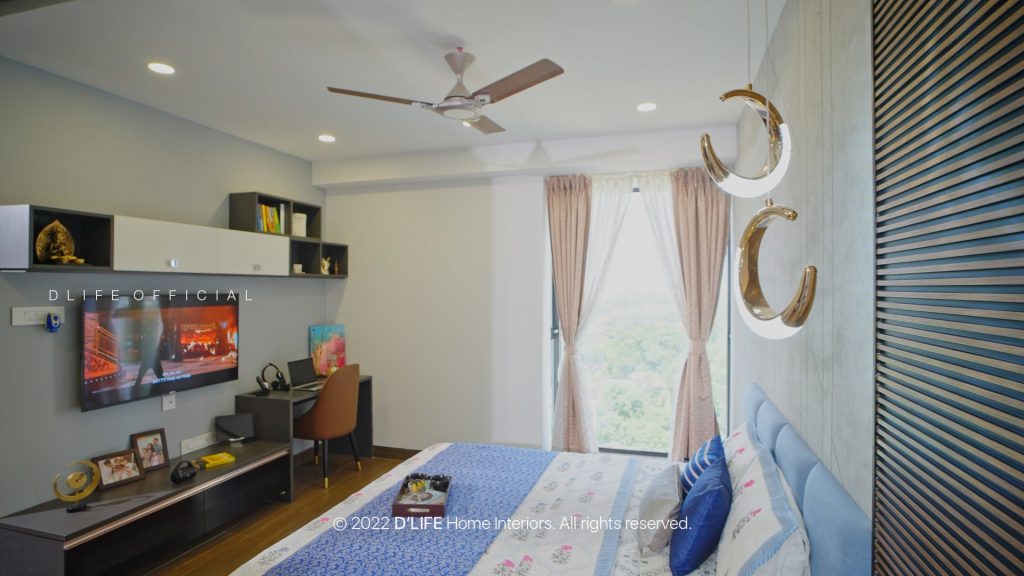 The kid's bedroom serves as the major highlight of the home. We had an exciting quest to create a unique design statement and to make it more suitable for the modern age. With two beds, study units and a wardrobe surrounded by bold, bright, cheerful settings, this space is something which little kids alike will appreciate. All the furniture in the kid's bedroom is custom-made by our team of professional interior designers in Chennai to be ergonomic and offer a playful charm. We designed this space with the latest interior design trends in mind in a blue setting as per the likes of the children.
Here's a walkthrough video of this home interior in Chennai.