How to Choose a Good Electric Chimney or Hood for Kitchen
May 08, 2020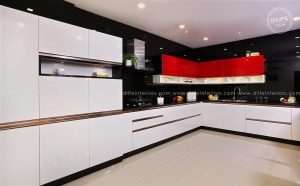 The kitchen is an integral part of any home. It is where you cook up a sumptuous meal for the family. Indian style cooking involves the use of plenty of oil, spices, and is not easy to clean. There need to be a suitable solution for smoke and scents released while cooking that generally hang on within your home. An electric chimney or hood helps to control this effectively. So, how does an electric chimney or hood work along with the hob?
An electric kitchen chimney is a kind of kitchen home appliance that includes an electric fan, which makes your kitchen free from odour, fumes, steam and heat. A kitchen chimney is fitted above the stove. Once switched on, it sucks in all oil smoke and fumes and let it out of your kitchen through a duct or is recirculated. Thus acting as an air purifier, it makes the kitchen clean and smoke-free. While choosing a good electric chimney or hood for kitchen, you may consider the below aspects.
Size and Power of the Chimney
The purpose of hood is to capture smoke and heat. So, when looking for a hood, its quality and strength are the core factors to consider. It's not exactly a requirement that the hood should be of the same size of your stovetop. However, it should take up all the smoke before they drift to other parts of your kitchen. If you do a lot of heavy cooking, you should aim for a more powerful hood to further get it outside. Thus, it is always better to have a minimum of 400 CFM for every linear foot of the range.
Kitchen Layout
The kitchen space determines how much space you need to work with. If you have an island kitchen, the hood is basically over a stove where vent connects to the ceiling and takes out the smoke that way. Thus, it depends mostly on the size of kitchen and the cooking top. If the kitchen is with less space to work with, under-cabinet range of hood makes sense. Here, the hood is fixed under your upper storage cabinets and above your cooking range. The best is to place the hood at least 24 inches apart from the cooktop. However, it is advised to consult the manufacturer or supplier for a recommendation. Each manufacturer may have a different set of configurations and recommendation.
Ducted vs Ductless hood
Ducted Hood
Duct chimney or electric chimney models is usually connected to a duct with pipes to carry smoke particles away from the kitchen to outdoors. Range hood uses a fan to collect the steam and are efficient at keeping air particles out of the kitchen. Carbon filter, Cassette filter, Baffle filter (best for Indian food) are some types filters used in kitchen chimney in India. Most chimney brands manufacture kitchen chimneys with baffle filter where the baffle acts as a suction power flow control panel. The straight line multiple curves in the process panel collects oil and grease particles in it.
Ductless Hood
Ductless hoods can be installed anywhere. The ductless hood operates by a recirculation process by filtering the air and then blowing it back into the room. The filter in ductless hoods contains activated carbon, which works to remove odour. However, Ductless hoods requires cleaning about once or twice a year depending on size of the chimney and chimney filters. If you are investing in ductless chimney for your kitchen, go for the auto clean option as it has more power of suction than the manual version. Centrifugal force in it pulls the oil grease particles to move to collector which allows the filters to perform better.
Appearance 
Hood or electric chimney comes in a large variety and sizes. Some of the basic hood designs won't add much glam to your kitchen space. Nevertheless, you can still find an island chimney or wall mounted one that add something to space. As many brands provide options that have arresting designs and strike your fancy, work with an interior works contractor to find the best suited and a little extra to the space.
Noise Levels
One of the most common complaints of electric chimneys in India is about the noise that it produces while functioning. Some manufacturers like Faber aim to produce hoods more quiet than usual. Faber is one of popular kitchen chimney brands that use a clean technology and filter types. You can visit a showroom and test the performance to analyze how loud or quiet an electric chimney is.
Solution: Entrust a professional
Unless you know how different kinds of hood or electric chimney installation works and how it synchronizes the best with rest of the kitchen, it would be difficult to make a decision on it. Therefore, an interior design company with expertise in modular kitchen installation can make the whole process easy.