Different Types of Home Interior Design Companies in Coimbatore
July 29, 2022
Availing the services of interior design companies in Coimbatore is a great option if you are looking to do your home interiors. But how to choose the design team which is right for you, when there are a lot of firms to choose from? People have various design needs and budget constraints and how to make things easier and choose the right one is the ever-present question. To help you choose the right interior design company, here's everything you should know about it out there.
1) Providing Only the Design
Having an interior designer is crucial for your home or renovation project. A perfectly designed home will surely create a wow feeling for the visitors as well as the homeowners. You can hire smart and interesting interior design companies in Coimbatore for your home and surely bring in creative decor elements in every space. However, some interior designers provide only the design. They might have a thorough knowledge of the design aspects including finding the placement of the bed, sofa and chairs for the stunning appearance you have longed for, but will not provide the furniture or execution services.
2) Providing Design and Execution
One of the most overlooked aspects of hiring an interior designer is their execution of furnishing. Hiring such designers is beneficial to the homeowners to an extent. They have plenty of design ideas and resources to make the furnishings and decor as per your need. However, it is important to take note of their manufacturing techniques and also where it is being manufactured. Some interior design teams in Coimbatore rely on third-party manufacturing units for making their furnishings and decor. With this, as a customer, you may be highly risking your money as you will not be sure of the materials which have been used and the quality checks they have done. Designing your home interiors like this will invite problems in the future.
3) Complete Interior Works: Design, Production and Execution
Here is the third category of interior design companies in Coimbatore providing all the services under one roof. Interior designers in such firms have a prominent role to play in increasing the visual aesthetics and functionality of a space. Design, production and execution requires excellent coordination to give the best results. Therefore, it is always better to go for one company that agrees to undertake the complete responsibility. It saves time and avoid the struggles.
a) Limited Customization and a Fixed Modules Style
There are several home Interior design companies in Coimbatore offering limited customization and provide the essential modules. These are mostly online e-commerce sites that offer products that are barely made in their own factories. When the client has limited budget, immediate requirement and ready to compromise o design elements, such companies may be helpful. Client should also take care about the quality of wood and after sales conditions while considering such companies.
b) Extensive Customization with Execution Outsourcing
When buying a new home or deciding to redecorate, we also come across interior design firms in Coimbatore that showcase a variety of design options to contemporary standards. They focus on the visual aesthetics and style of a space. They may do the spatial planning, designing and other services to uplift the overall look of the home but may not have their own factory to manufacture the products. Such design firms will often outsource their modular kitchen and furniture execution to other contractors to make your design vision come to life.
c) Complete Home Interiors with Own Execution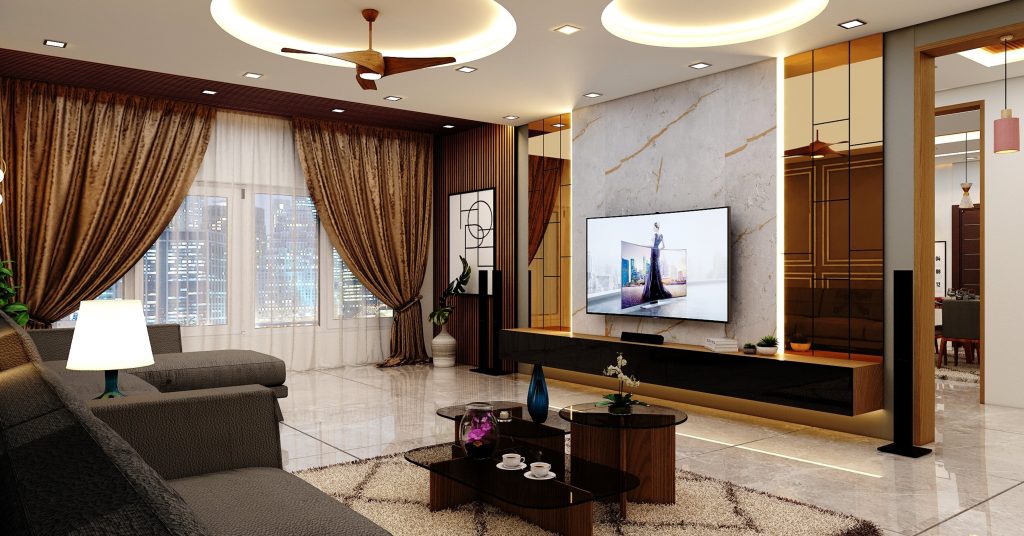 In order to achieve a completely hassle-free process, anyone would need a home Interior design company in Coimbatore that undertakes the full project. From the initial consultation, designing, production and execution till the handover need to from the same company. By entering into a contract, you get the services of professionals with lo of experience in undertaking such works. Advantage is that they have people and strength to carry out the complete works in proper co-ordination. They look after everything from end to end including design, space layout planning, procurement of materials, manufacturing and delivery and execution at site. Thus, there is no need to search for different companies or contractors to create your dream home interiors. Moreover, there is transparency in the agreement and thus the scope of work including the rates mutually agreed.