Best Home Interior Designers in Bangalore
April 14, 2018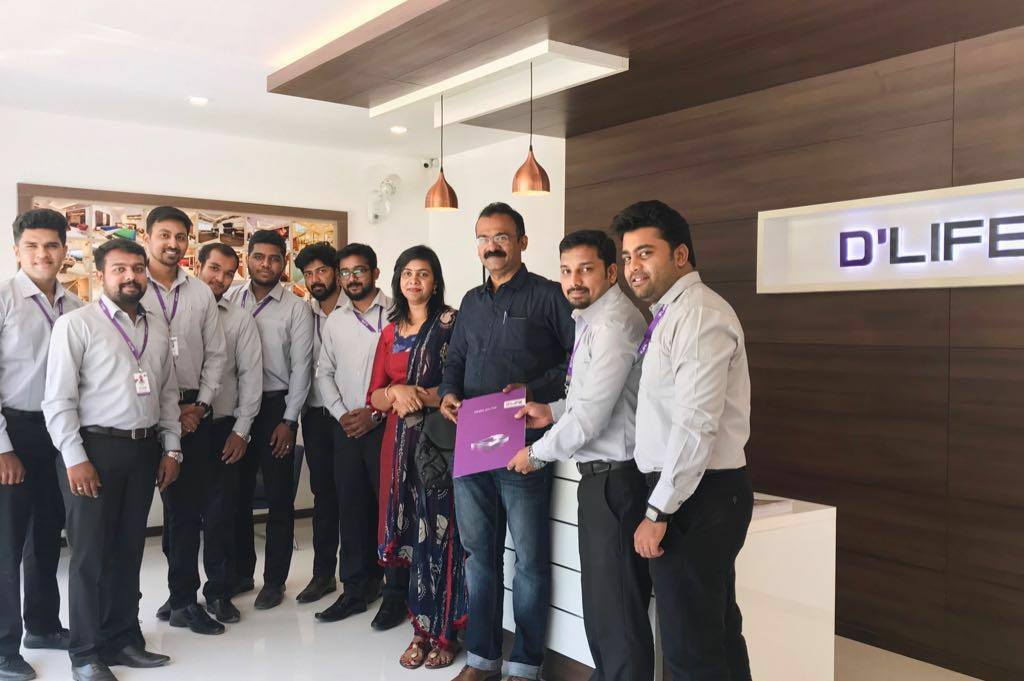 D'LIFE, the ace home interiors brand in South India, chooses the "Silicon Valley of India" as the location for their new branch. Now it stands as the most reliable interior designer in Bangalore with a full-fledged team for client service to execution. This company started at Cochin in 2004, built a remarkable reputation over the years through a systematic approach. As a result, it established several showrooms cum branches across Kerala. After many years of successful operations, the company is taking a giant leap by expanding the showroom network to Bangalore city.
Professional Interior Designers in Bangalore City
Bangalore is one of the most crowded cities in India. This fastest growing metropolis in India is also the hub of IT professionals. People living in such cities often face challenges while buying a flat, especially when it comes to managing with minimum space available. Most of the people working in this sector may have a clear idea about the requirements. However, it is not necessary that they get sufficient time to handpick the designs. But, as a perfect solution, utilize the expertise of professional interior designers in Bangalore from D'LIFE. This company can create exquisite designs and customize complete interiors. With over a decade of experience and more than 6000 completed projects, this team can certainly provide the best.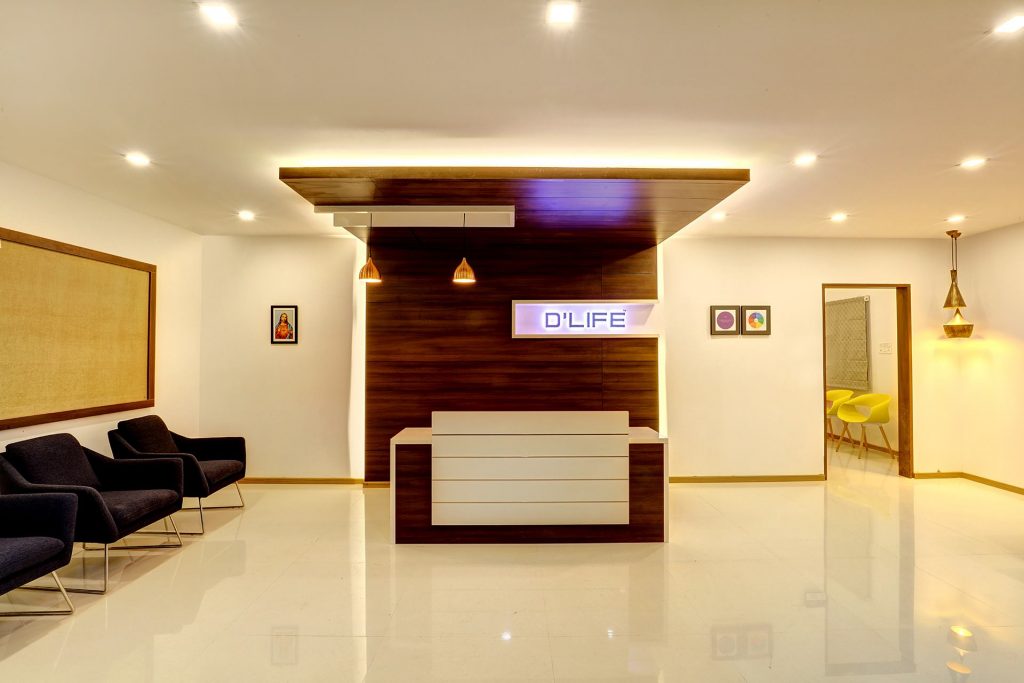 Products & Services
D'LIFE offer 100% customized furniture for all rooms as per requirements. You may find plenty of interior designers in Bangalore, but not many have their own design team, production, and execution. The speciality of this company is that it allows you to add your contributions and create exclusive designs that are perfectly suitable. Most popular products include modular kitchen, dining room furniture, living, and bedroom interiors.
Complete Modular Kitchen
In today's world, a modular kitchen is the most practical version of a fully functional modern kitchen. Moreover, it can be customized for each client to fulfil his or her requirements. D'LIFE provides a collection of amazing modular kitchen designs in different styles and colours. Thus, clients can choose the one that is stylish, convenient and affordable. In addition, accessories like cutlery tray, bottle pull out, waste bin with auto lid etc. are also available. Select from different shapes of modular kitchen, considering the space and suitability.
Living & Dining Rooms Interiors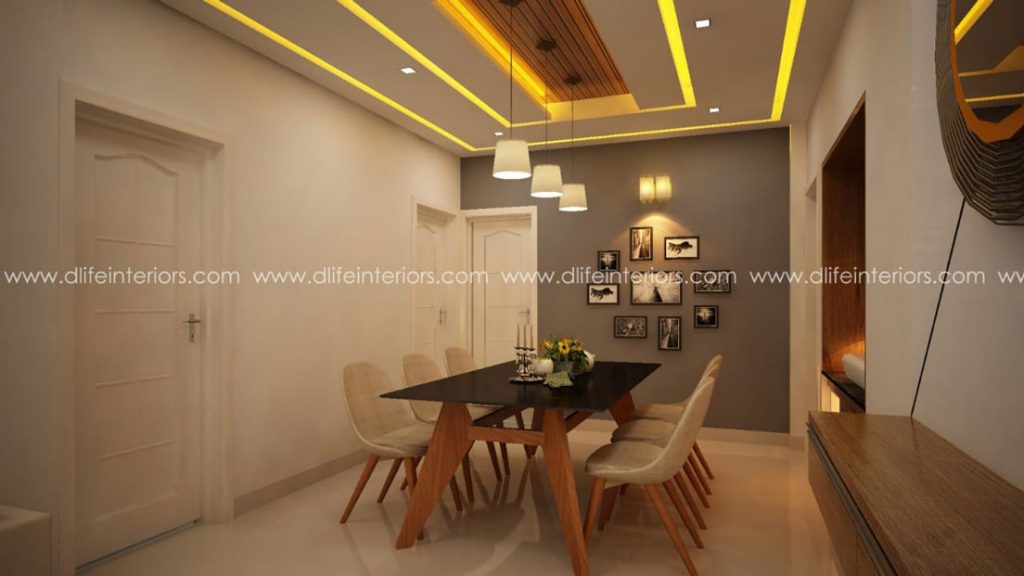 D'LIFE provides modern interior designs for your living and dining room by perfectly utilizing the space and budget.  Get customized crockery shelf, sofa set, TV display unit, or a dining table as per requirement.
Bed Rooms Interiors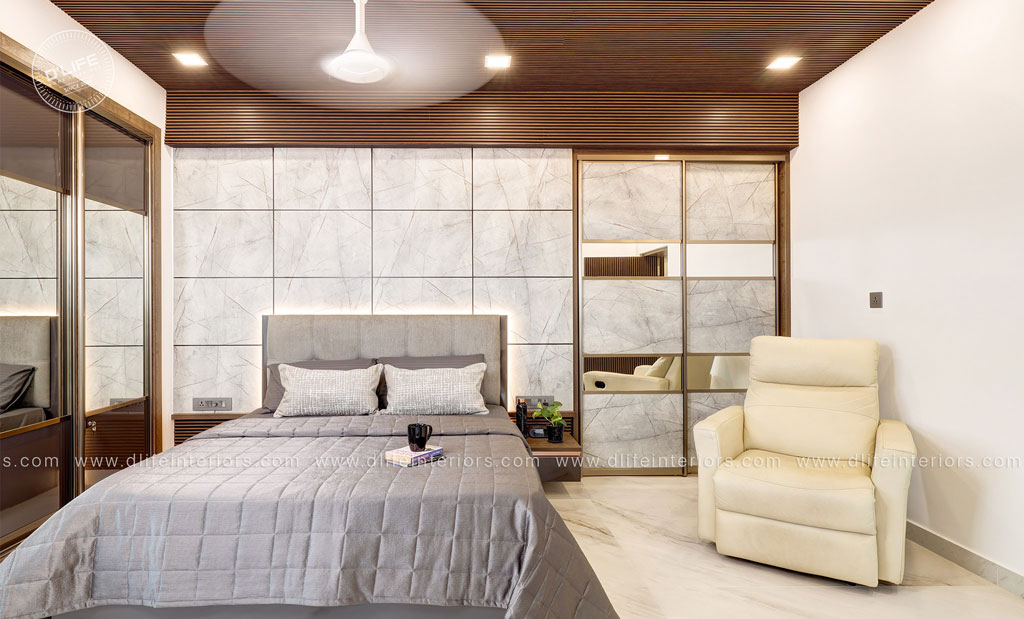 Utilize the expertise of professional home interior designers in Bangalore to create stylish bedrooms ensuring comfort as well as convenience. Our team helps to design, make, and install bedroom furniture like cots, side tables, wardrobes dressing tables etc. in enchanting colours and patterns.
How Do We Work in Bengaluru?
A)    Enquiry & Requirements Study
Please check our website or contact us to see some of our previous works or to get a quote. We suggest you visit the D'LIFE Bengaluru showroom, an actual feeling of furnishing could bring better clarity. It will also help to express your thoughts and discuss requirements with our consultants in detail. Designers at the showroom will always be at your service providing suggestions and solutions.
B)    Designing and Approval
We create customized designs exclusively for each customer, taking care of specific requirements. Our expert interior designers in Bangalore will take care of this part; they will prepare suitable designs based on your needs. The client can also incorporate their suggestions and ideas during the process. Designers will demonstrate the scope and possibilities and validate them against the requirements. In addition, they will also prepare 3D views so that client can have a more realistic view and decide.
C)     Production and Installation
We promise installation of furniture and other interior works at the site within 35-45 working days after finalizing the design. All our products are built in our own factories without third-party help. This allows us to provide the service at a moderate cost without compromising on the quality. Products are also made with expert supervision to ensure quality. Once the production is over, our installation team install it onsite. Similarly, after the installation, they hand over the project to the client with all the necessary documents of warranty and service.
D)    Service and Maintenance
The company offers 5 years warranty on furniture and major accessories. Our dedicated service department offers lifetime maintenance and support. D'LIFE team is always committed to providing excellent service in interior design and execution. If you wish to contact the best home interior designers in Bangalore to hand over all works from concept to completion just call: +91 999 551 77 77. Or, walk into your nearest DLIFE location to discuss requirements and plan the perfect home interiors.