Inside a Luxury Apartment on the Hills of Kottayam
January 24, 2017
Known for its religious harmony and as a hub of trade and commerce, Kottayam is one of the upcoming cities in Kerala. Being at the centre of the state it is easily accessible to the mountains of Idukki, the backwaters of Alappuzha as well as the metro city of Kochi. Tranquil rivers and enchanting green hills add to the beauty of this "letters city" of Kerala. Kanjikkuzhi is the most preferred and premium residential location, just 4 KMs from the heart of Kottayam town.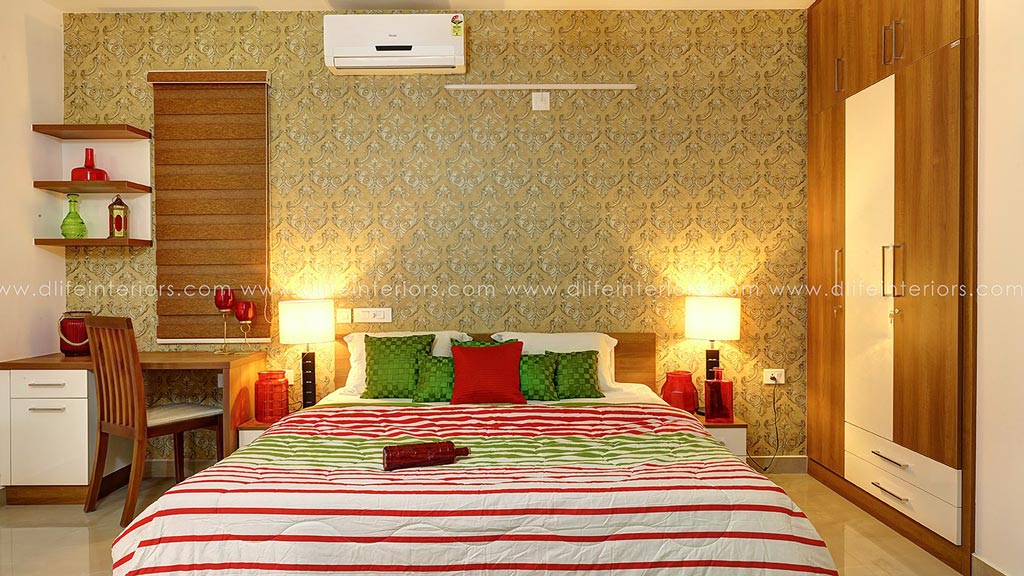 Dax Chacko, a businessman, from  Kottayam and his family are now enjoying the heights of luxury on the hills of Kanjikkuzhi. In addition to a premium apartment to live in, green surrounding, mild blowing wind and chirps of friendly birds, comes free forever. A swimming pool, children's play area and recreation facilities help to ensure his well being at this new residence complex.
The 3-BHK 1830 sq ft flat at Skyline Palazzo, Muttambalam, Kanjikkuzhi, also includes two balconies, a foyer, living and dining room. This premium residential tower is near the prestigious Kottayam Club. When convenient location helps his business as well as living, suitable interiors ensure comfort, ease and peace.
Great Inside and Excellent Outside Space
These opulent luxury apartment interiors in Kottayam is delightful with their immense cosiness. Wooden flooring in the living space and ivory colour vitrified tiles at the rest of the flooring match with wall paint. A pale yellow colour tone with ambient lighting provides a warm feeling to this luxury apartment interiors in Kottayam. Furniture at living, dining and bedrooms as well as the kitchen has a blend of frosty white and walnut bronze finish. All other soft furnishings like sofas, blinds and wallpapers complement the whole theme.
At Palazzo, the builders have provided an excellent outside space and amenities for the occupants. The spacious entrance lobby with granite flooring is elegant and welcoming. Besides common facilities, amenities equipped include a home theatre, fitness centre, and recreation hall. Children's play area, swimming pool, landscaped terrace party area and games room with pool table and card table are also set up here.
Client and Company Working Together on Interiors 
Foreseeing current designing trends, D'LIFE Home Interiors worked with Dax Chacko for fulfilling the requirements of his luxury apartment interiors Kottayam. All rooms and kitchen furnished are according to client's suggestions, needs and convenience. A luxurious living room welcomes you with a 5 seated Ottoman sofa and a coffee table.  A TV display unit with a back panel, cabinets for storage, ledges and an open shelf are also arranged. The dining room is comprised of a table with a thick black glass top and 6 chairs. One crockery shelf and wash counter with cabinets are also placed here.
The three bedrooms have 3 door wardrobes with loft. The Master bedroom consists of king size cot with bottom storage, a writing table, a dressing table and a bedside table. The other two bedrooms come with a queen-size cot and 2 side tables. Writing tables and dressing tables are essential additions to the kid's bedroom and guest bedroom respectively. The U shaped modular kitchen has a black granite top and is equipped with all modern kitchen accessories. Designers provide the best possible, yet simple furnishing with close co-operation of client. Watch the actual video of this flat's interiors at Palazzo Kottayam. Walk into DLIFE home interiors Kottayam to view, discuss and choose the best one that suits your home. Or, just call: +91 956 723 11 11 .