Overdone Living Room Trends Designers Want to Leave Behind
April 14, 2023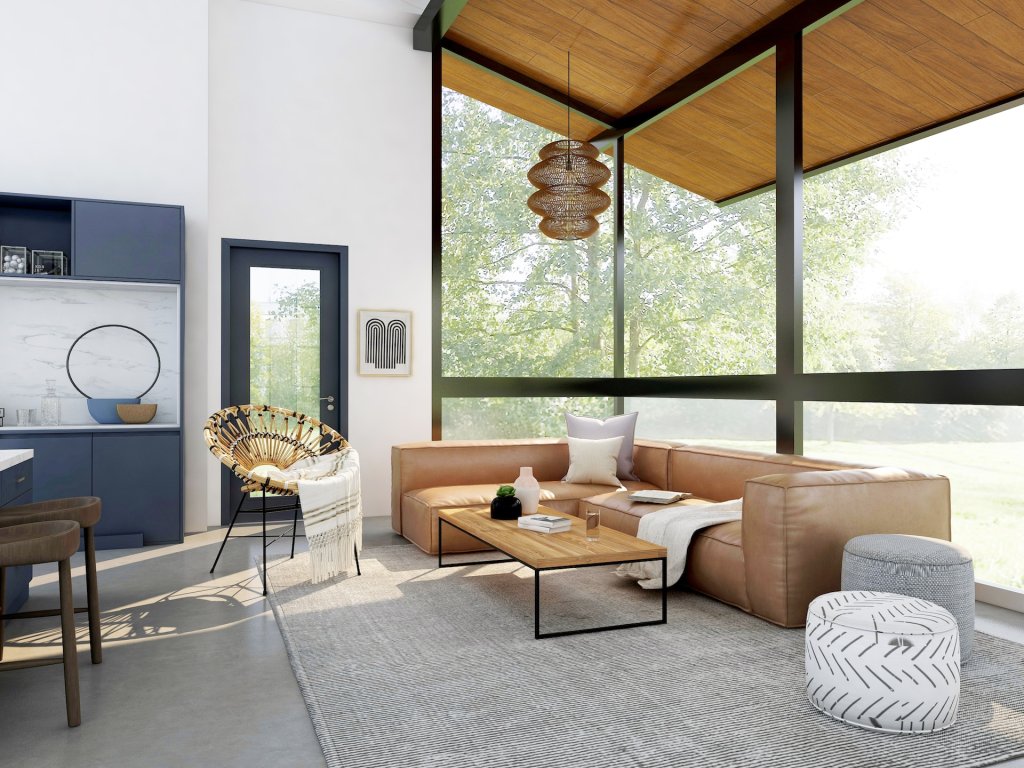 Over the past few years, the majority of us have spent more time at home than ever before. The time we've spent has influenced our design decisions and inspired many people to reimagine new possibilities. As you might be aware, there are definitely trends in interior design, like clothing, and anything can be in or out depending on the year, season and trends. Here are a few overdone living room trends and design elements that designers now want to leave behind.
Black and White Color Combinations
Black and white color schemes were a great way to add a pop of color to a room and was one of the most overdone living room trends. They're also easy to do, which made them an excellent option for someone who doesn't have much time or skills in decorating their home. The only downside that many of us haven't noticed over the years is that black can be overpowering if you don't use complementary colours with it.
Carpeting and Oversized Rugs
Oversized rugs were a great way to add color and texture to a space. They used to be the focal point in the room, but also an accent piece on their own. But now, this is quite impractical. With the changing trends in interior design, furniture pieces have become more functional and space-saving. Therefore, bulky focal point pieces like oversized rugs are no longer in demand. If you still want to add a rug for your home, try going for one that has different shades of blues or greens so it doesn't compete with everything else around it!
Oversized Furniture  
Oversized furniture was one of the overdone living room trends that has been around for a while. The oversized pieces tend to look more conventional than they actually are because of their size—and that can lull people into thinking they're not quite as interesting as they could be.
It can be great to add color and style to your home, but if you're going to choose this type of furniture, make sure you don't overdo it! A good way to avoid oversized pieces is by choosing something smaller than usual; this will help make sure that everything looks proportional instead of inundating the room with too much furniture at once (and maybe even costing more money). Another option would be finding ways around having two separate pieces when they could easily work together instead: try combining wood tables with glass or metal chairs together in one space!
Mid-Century Decor 
The mid-century decor is a residential interior design style that was popular in the 1950s and 60s. It's a mixture of modern with traditional design elements, such as furniture made from natural materials like wood, metal and stone. Designers now feel that the ubiquity of this particular style has made it feel commonplace. As a result, some designers are now experimenting with more unique and unconventional design elements to create a fresh take on contemporary-traditional fusion. This could include incorporating unexpected colors, textures, or patterns into the mix.
Wallpaper
People love and hate wallpaper. The use of wallpapers has been the trend for quite some time but with the introduction of textured painting and various color schemes, wallpapers have come to a rest. However, wallpaper is still a popular choice for those who want to add a unique and decorative touch to their walls. The right interior designer or the right mind can make anything cool, and enviable. It can also be a great option for renters who want to personalize their space without making permanent changes.
Floor Lamps 
Floor lamps are no longer popular. Recessed lighting fixtures and track lighting have become the most overdone living room trends for modern interior design. These options provide a sleek and minimalist look while also offering versatility in terms of directing light where it is needed. That being said, floor lamps still remain a practical and stylish lighting option for any room in the house. With various designs and sizes available, floor lamps can easily complement any decor style and provide the perfect amount of ambient lighting. 
Be aware of what you're buying and how it will look in your home. The goal here is to avoid overdone living room trends that are outdated or lacking in quality craftsmanship. Don't buy into something just because it looks good on Pinterest. If you want help to redecorate your space, get the help of an interior designer. An interior designer can help you create a cohesive and functional design plan that reflects your personal style and meets your specific needs, while also considering factors such as lighting, color schemes, and furniture placement. Over the years, D'LIFE has operated cross functionally to make sure that homeowners receive all interior solutions in one place, from material selection to furnishing and installation.