Plan Well to Create a Dream Kitchen
July 07, 2020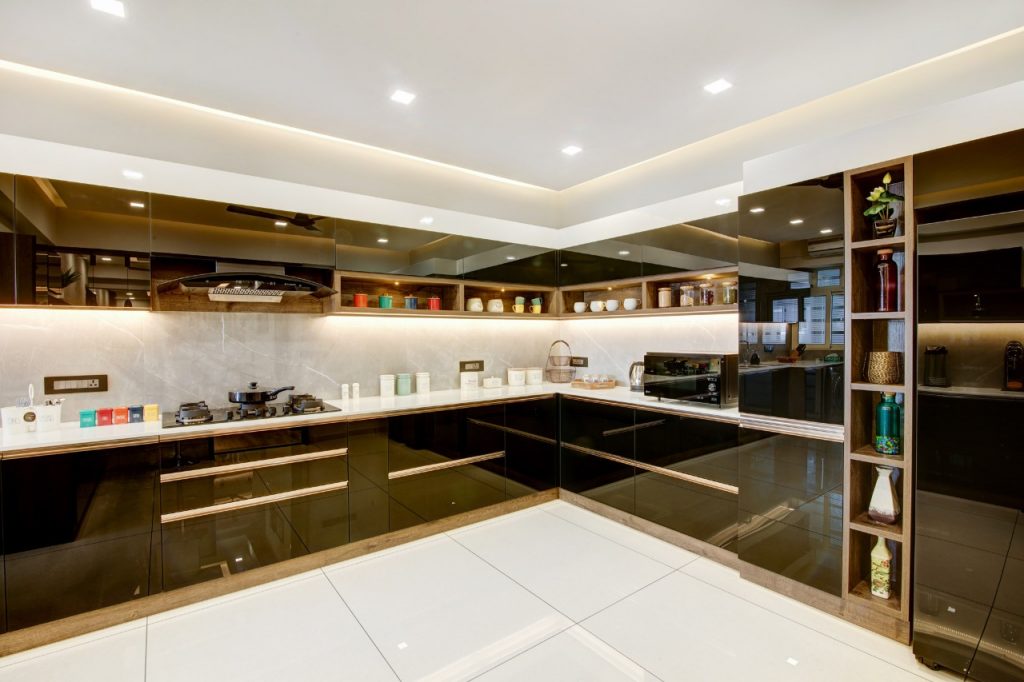 Do you have a vague idea of how long you spend time in the kitchen? Whether to cook meals or to eat them, the kitchen is usually the hub of getting together and grooving to the rhythm of spluttering of mustards, whistles of cookers and clanking of utensils. If you dream of a kitchen interior design in Kerala that conveniently combines the functional and aesthetics to invoke your cooking skills, we have decluttered the redundant notions and have brought novel ways of designing your kitchen. Well, you hold the power to transform your area with your imaginations and we just steer you towards the satisfaction it imparts.
Design Makes All the Difference
We design the kitchens and interiors with its layout in our minds. The shape determines the easiness of acquiring and placing certain things such as plates and cutlery and we achieve this through our kitchen interior design in Kerala. A U-shaped kitchen would allow you to surround yourself with everything in a simple grasp. Or an island kitchen would give you additional spaces to cook as well as enable you to interact with your guests while preparing the food and if you are short on space, a parallel kitchen or a straight kitchen can be helpful. So, the kitchen layout would be the driving factor that would help you to organize things by utilizing the available spaces.
Store Everything in Style
Since we are talking about spaces, it is necessary that you manage the storage options well and therefore, we include cabinets and shelves in our services of kitchen interior design in Kerala. In doing so, you could be saving a lot on unused spaces and keep everything you need in the kitchen within your fingertips. Besides, we take into consideration the needs of each dweller and hence, we arrange the storage spaces based on the convenience of each one. In other words, you need not hunch down if you are tall or struggle to get your cookware from atop if you are short. Through this, we aim to impart the thrills of working in the kitchen for everyone alike. Thus, the most modern modular kitchen design incorporating all essential storage requirements can serve your purpose.
Keep a Long Term Approach
Adding to this, we accomplish the kitchen interior design in Kerala through wide-ranging materials and textures that perfectly match the intended style and layout of the kitchen. By splashing the soft pastel tones, the kitchen would imbue a fresh ambiance that would brighten the area. Moreover, extreme care is given in choosing the flooring of your contemporary design kitchen as we impart most of the damage to this most delicate platform. With low-hanging lights and contemporary back-splashes, we ensure to enhance the functionality of your kitchen.
For comfortable and easy maintenance of various appliances and cookware, you can rely on our design services. Your modular kitchen interiors is to last for several years and survive touch work atmosphere. Therefore, it is essential to keep a long-term approach while designing and planning kitchen interior works. A professional company rather than an individual or small local firm may be helpful to achieve this mission successfully.
Have a look at elements and ideas introduced on 2020′ popular kitchen projects- Modern Kitchen Design Ideas 2020.