How to Set Up a Home Gym for the Ultimate Workout
May 02, 2022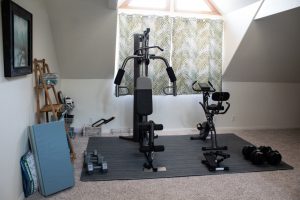 To set up a home gym with the right fitness equipment is a great way to begin your fitness journey. A workout area will give you the independence and the flexibility to train according to your own time and liking. A perfect gym at home can not only help save money and time but also drive you to work out regularly.
Design the Space for a Variety of Workouts'
Space is the major determining factor when you set up a gym at home. It's important to give you're the gym a variety of workout equipment. Though the equipment you purchase will depend upon on the space available and the budget, if you plan properly, you can create everything essential. Choose a space that would offer an uninterrupted training session. If you typically stretch or perform yoga, a space enough to accommodate a yoga mat would be sufficient. However, if you are into weight lifting sessions, it would require rooms large enough to have weight equipment, cardiac fitness, strength and muscular endurance, and flexibility. A pull-up bar, dumbbells, skipping rope, resistance bands, and treadmill/ cycle, would make the perfect home gym equipment. But, keep in mind that procuring a high-priced all-in-one gym machine is not worth it if you would like to focus more on mat exercises.
Create the Perfect Atmosphere
Your workout room should be a neat and inviting place. To achieve that, make sure the room has proper windows for ventilation and make sure to find a location where you'd feel at ease sweating. Give it a personal touch with plants, and other home decor accessories. But above all, ensure that you prioritize the safety of the kids and other family members.
Add a Mirror
Mirrors at the gym are for a purpose. It allows you to see your form and make improvements to your movements. Moreover, a mirror makes your home gym setup look larger than it is. Consider installing a mirror behind a training machine, treadmill, or squat rack to enhance the overall look of your gymnasium at home.
Protect Yourself with Suitable Flooring Materials
It's good to set up a gym but make sure not to damage the flooring. Install rubber flooring to minimize noise, and avoid damage. Even a yoga mat can offer you some cushions from hard flooring.
Add Storage Units to Your Home Gym
When assembling the workout items, consider a few shelves or storage units so that you can easily organize the space. What's important is that you need to ultimately have an organization system that keeps your gym tools in place. Proper storage solutions such as shelves or containers are easy ways of ensuring you have everything sorted out. Wall shelves will be really useful if you are in a restricted amount of space. It is always better to take the help of professional interior designers to include a small gymnasium in your new house.