This New 3 BHK Apartment in Kochi is a Dream Abode for the Client
June 22, 2019
Glance at 3BHK Apartments Interiors in Kochi
An elegant upscale 3BHK apartment interior is truly a treat for the eyes and thus worth getting into details. Let us look into such an apartment at Panampilly Nagar near MG road, a posh residential area in Cochin, Kerala.
This 3 BHK apartment interiors in Kochi has been brought to life with a creative approach along with the latest designs. Interior designers adopted a unique style to merge the spaces and create a sense of continuity. With this, they were able to make use of the minimal design aesthetics much more functional and pretty. Being a second home that would be used by the client only occasionally, design and furnishing are stylish and modern. Decor in every nook and corner is high on function however minimal on design.
House at a glance
A Stylish Kitchen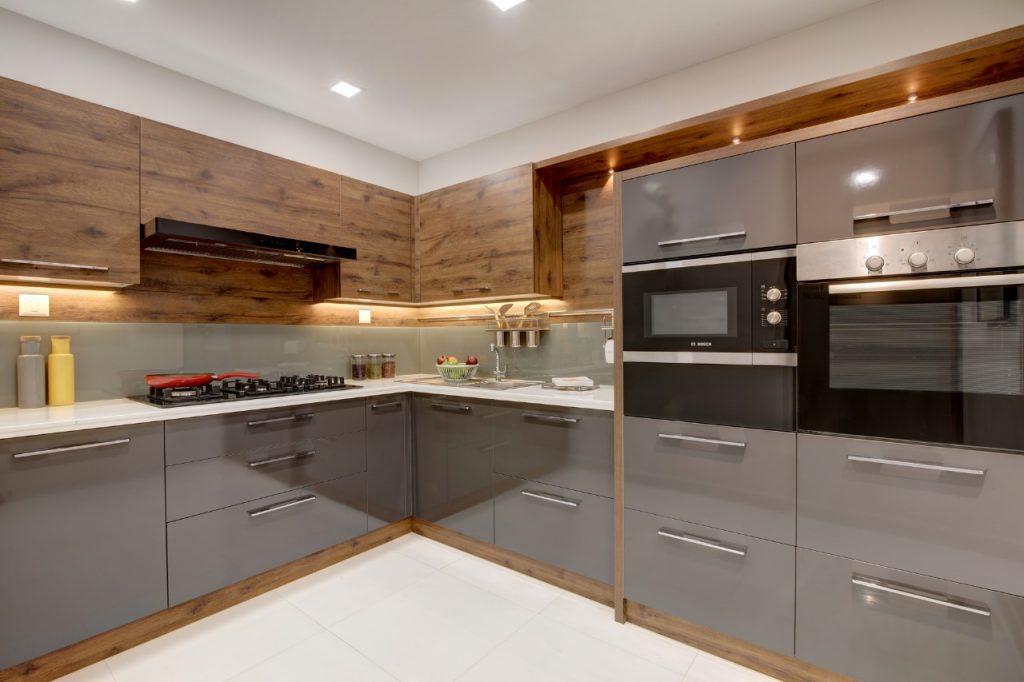 Owners of this house love cooking and entertaining. Thus, the kitchen space is compact, contemporary, and neatly streamlined with a fully functional modular kitchen. Crafted with Gurjan Ply and granite counter top it offers plenty of storage and a vibrant aesthetics that reclaims the joy of cooking. Homeowners wanted the kitchen space in this 3BHK apartment interiors to be intact, easy to handle and all the more stylish. Therefore, the designers have come up with a mix of woody accents and LED lighting, making it perfect even for family socialization or get together.
Luxurious Bedrooms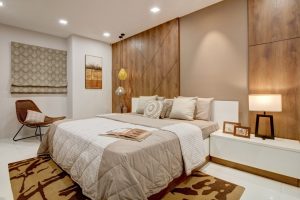 Designers have incorporated the bedrooms with a clever mix of functionalism. This 3BHK apartment interiors in Kochi boasts the most modest designs, where one of them also functions as a workspace. Office space is luxuriously striking that encloses contrast and depth offering a suave style. This nook in the bedroom produces the ideal zone for the client to indulge in his formal functions with its rich fabrics and amenities. Besides, the green feature walls and wide windows offer a spectacular view of Cochin. The bedroom also gets integrated with bottom storage beds and small bedside tables with table lamps to make it uncluttered.
Attractive Living Area 
Coming to the living room, this 3BHK residential apartment interior is all about renewal, energy, and nature. A Path in the living room leads to a linear corridor with a sofa chair in lime green enveloped with rich fabrics and a plant that creates a modern vibe and eccentricity. A combination of contemporary with a twist of green adorns the walls and creates a unique look. The custom-made sofa along with the magnificent rugs, adds subtle plushness to the comfortable living. The owners wanted a feature wall; so a 3D wallpaper takes its place behind the sofa. A slim floor lamp helps to create a sense of calm luxury in the living space. In order to get a unifying characteristic, the apartment eliminates the use of ceiling fans. This has helped to eliminate the visual clutter and create a sleek highlight onto the decor.
Even the balcony creates visual connectivity with natural elements incorporated into an intrinsic space with a clever mix of greenery. This creates a sense of inner calm and peace. The space gets a custom wood armchair, a colorful plant that climbs up along the walls for a smooth garden like space. Magnificent natural tone of the green walls merges with the vibrant space depicting nature that reminds of good times & inspires the inner spirits.
Desire for most beautiful possessions should be meaningful and ensure peace of mind. An expert interior designer in Cochin can transform even a few square feet of bare space to a truly luxurious one. Applying mind, time and sincere efforts, they work on behalf of the client to create and deliver what they need. This 3 BHK apartment interiors Kochi is just one example. Many more to follow!